Chinese star Deng Chao plays two separate characters in the historical drama.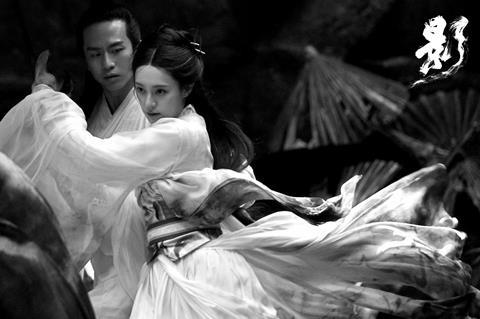 Tencent Pictures, one of Chinese tech giant Tencent's two film divisions, has boarded Zhang Yimou's Shadow as co-investor alongside Perfect Village Entertainment and Le Vision Pictures.
Tencent's participation in the film is expected to result in the seamless leveraging of its marketing and distribution strengths across all traditional and social media platforms.
The news was announced at Tencent's annual "Tencent Night" at Shanghai International Film Festival, attended by Tencent Pictures CEO Edward Cheng, Perfect Village Entertainment CEO Ellen Eliasoph and Zhang Zhao, CEO of Le Vision Pictures.
"Shadow's vision, passion and originality are completely in keeping with who we are as a company, and we take great pleasure in having this opportunity to commit our best people and all of our platforms and resources to the promotion and release of this year's most highly-anticipated Chinese blockbuster," said Edward Cheng.
Shadow is currently in the final stages of post-production and will be released in late summer or early autumn this year. The cast includes Deng Chao, Sun Li, Zheng Kai, Wang Qianyuan, Guan Xiaotong, Wu Lei, Hu Jun and Wang Jingchun.
An epic story from China's Three Kingdoms period, the film has adopted a unique Chinese inkbrush painting style. Deng Chao performs two roles in the film – an ailing general and his body double who has been trained in secret since childhood.
Endeavor Content and Bloom are representing worldwide distribution rights for Shadow outside of China.