The Battle At Lake Changjin II looks set to conquer the China box office when it hits cinemas on February 1, which marks the first day of the highly lucrative Chinese New Year holiday.
At time of writing, the action sequel has clocked up more than $40m (RMB258m) in advance ticket sales for its opening day alone, according to real-time box-office data from the country's leading online ticketing platform Maoyan.
The release of the 1950s-set patriotic war epic was only officially announced less than three weeks ago as a late addition to the crowded festive season, which will see eight local films released into Chinese cinemas on the same day.
Despite its late entry, The Battle At Lake Changjin II easily took the lead in advance ticket sales once they had kicked off on January 21. The film is a highly-anticipated sequel directed by the same heavyweight trio of filmmakers – Tsui Hark, Chen Kaige and Dante Lam – and featuring the same main cast of Wu Jing and Jackson Yee.
The first Battle At Lake Changjin, which only came out four months ago for the October 1 National Day holiday, is China's highest-grossing film of all time with $913m (RMB5.77b) despite ongoing Covid-19 concerns.
The sequel leads other Chinese New Year contenders by a wide margin, with its opening-day advance ticket sales accounting for more than the combined pre-sales total of the next three films.
Battling it out for the second to fourth spots are Nice View directed by Wen Muye (Dying To Survive) and also starring Yee, Only Fools Rush In by Han Han (Pegasus) with Liu Haoran (Detective Chinatown series), and Too Cool To Kill by Xing Wenxiong with Ma Li (Never Say Die).
Other Chinese New Year offerings are Snipers, also a patriotic war film set in the 1950s and co-directed by Zhang Yimou and his daughter Zhang Mo, and three family animations: Boonie Bears: Back To Earth, Dunk For Future and Run Tiger Run.
The total pre-sales for these eight domestic titles have now exceeded $75.5m (RMB480m) for February 1 alone, which represents around 8.2 million admissions. Numbers are rising by the minute, indicating another record-breaking year is on the cards for the Chinese New Year box office.
It's one of the most lucrative but also highly competitive times of the year for Chinese films, with the schedule always subject to last-minute change. About a dozen films were originally dated for the 2022 holiday but several have since dropped out including Breaking Through, Advancing Of ZQ, and animation Chibi Maruko Chan: The Fantastic Notebook.
While Chinese New Year is a week-long holiday, the first day has traditionally set the tone in terms of box office, serving as a key indicator of a film's total takings. Last year, however, time-travel comedy Hi, Mom was propelled by strong word of mouth to overtake initial frontrunner Detective Chinatown 3 after the second weekend. It remains to be seen if The Battle At Lake Changjin II can maintain its momentum and finish as the overall Chinese New Year champion.
Hong Kong cinemas remain closed
In Hong Kong, it is still lights-out for cinemas, which have been closed since January 7 due to the surge in the Omicron variant. It is the fourth shutdown of Hong Kong cinemas during the pandemic, which were also closed during last year's lucrative Chinese New Year holiday.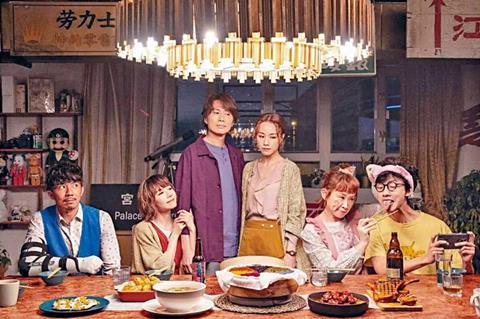 Chinese New Year films made specifically to get audiences in the festive mood are a long tradition in Hong Kong. This year, local feel-good comedies such as Chilli Laugh Story and Table For Six were being heavily advertised in the lead-up to the holiday.
The local cinema shutdown has not only disrupted release plans in Hong Kong, but also in overseas markets that had scheduled a day-and-date release with Hong Kong.
"Chinese New Year films usually gross high numbers because it's a tradition for families to watch these films to celebrate the New Year. But delaying the release puts a big discount to the box office both locally and internationally. Chinese New Year films also serve the Chinese communities in other territories such as Singapore, Malaysia, North America, the UK, Australia and New Zealand," said Terence Choi, distribution manager of We Distribution, which handles sales on Chilli Laugh Story.
"These days not many local Hong Kong titles can get day-and-date release overseas except big budget China-Hong Kong co-productions. The Chinese New Year release window is therefore very important for distribution in these overseas places, but our distributors will also miss the Chinese New Year period as they have to follow the Hong Kong release date."
Hong Kong cinemas are scheduled to reopen on February 17 as long as current measures are not extended further.