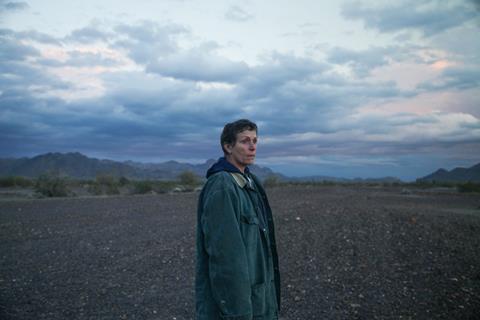 Chloe Zhao's Academy Awards contender Nomadland has been cleared for release in mainland China.
China's National Alliance of Arthouse Cinemas (NAAC), which has created a circuit of more than 3,000 theatres, is handling the release and is understood to be aiming for a date around the same time as the Oscars ceremony in late April.
This year's Academy Awards will take place on April 25, although Chinese viewers will be watching the ceremony on the morning of April 26, due to the time difference.
NAAC has previously distributed Oscar winners such as Roma, Bohemian Rhapsody and Three Billboards Outside Ebbing Missouri.
When state media confirmed Nomadland's release, Chinese netizens began expressing support for the film on social media platforms: "I have kept my eyes on this movie for a long time and, after repeated calls, it finally made it to stage. I will definitely buy tickets and go to the theatre to support it," one netizen commented on Sina Weibo.
Zhao was born and grew up in Beijing, before attending school in London and later studying at New York University Tisch School of the Arts. All her films have been made in North America and are mostly English-language. However, Chinese audiences are likely to support her as one of their own in the Oscars race.
Nomadland has won a string of awards, starting with the Golden Lion at Venice film festival, and has four nominations for the Golden Globes, which take place this weekend. It was released online in the US for a week in early December, and then simultaneously in US theatres and on the Hulu streaming platform on February 19.