Disney's live-action remake waltzes day-and-date into China, Russia and Germany, among others.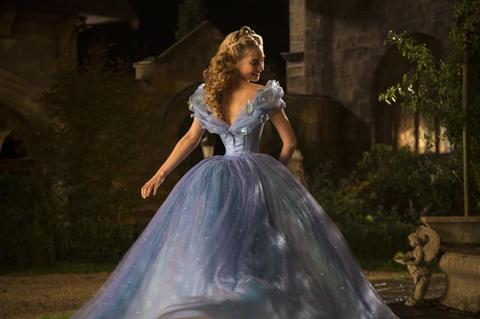 Cinderella will begin its international rollout in around 60% of its international territories this weekend, day-and-date with its domestic bow.
Disney's live-action remake opens in the likes of China, Germany, Italy, Mexico and Russia, as well as in Denmark, Hong Kong and Sweden.
Into the Woods stands at $60.9m and lands in Japan, while Big Hero 6 has opened everywhere and has amassed $390.2m.
Following a confirmed $23m debut in China, Warner Bros' Jupiter Ascending has taken $106.5m overseas as of March 8 ahead of its Japanese bow at the end of the month, while Focus has taken $37.3m and opens in Brazil this weekend.
Universal's Fifty Shades of Grey has whipped up $379m overseas and debuted in its final international market of Egypt on Wednesday [March 11], as The Boy Next Door has grossed an early $4.9m and opens in four of its remaining 24 territories this weekend: Chile, Hong Kong, the Netherlands and Ecuador.
Michael Mann's Blackhat lands in Italy and fantasy Seventh Son bows in Brazil having grossed $63.1m as of March 8.
After recording a $14.1m international debut from its 44 territories, Sony's Chappie opens in a further 15 territories this weekend including Australia, Belgium, India, South Korea and Spain.
For Fox, The Second Best Exotic Marigold Hotel has taken $21.1m overseas so far and checks into Russia and seven other new markets this weekend, as Kingsman: The Secret Service shoots into Austria, Germany and Turkey after amassing $156.4m as of March 11.
With the UK and Australia still to release, The SpongeBob Movie: Sponge Out of Water has grossed $110.2m for Paramount.
Teenage Mutant Ninja Turtles has opened in all of its overseas markets, taking a $294.8m slice of the box office as of March 8.