UPDATED MARCH 16: Disney's live-action remake records seventh largest March opening in industry history; It Follows delivers strong $163k opening from four sites for RADiUS-TWC.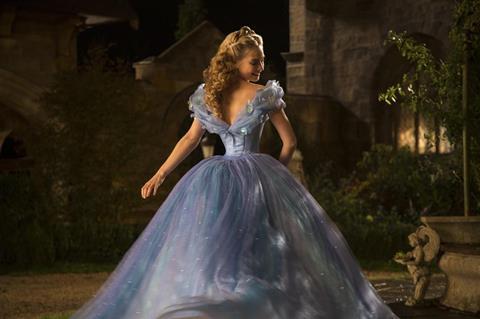 Cinderella has debuted top of the US box office with a confirmed $67.9m bow from its 3,845 locations.
Disney's live-action remake of their beloved animation recorded the distributor's third largest opening in March behind Alice in Wonderland ($116.1m) and Oz the Great and Powerful ($79.1m), and also marks the seventh largest March opening in industry history.
The debut just fell short of the $69.4m of stablemate Maleficent from May 2014 and is become director Kenneth Branagh's best-ever opening, outgrossing the $65.7m posted by Thor in May 2014.
Cinderella took over $5m on 358 IMAX screens, a record weekend for a domestic PG-rated 2D title for IMAX ahead of Night at the Museum 2's $4.17m.
Worldwide, Cinderella grossed $132m with a $62.4m overseas bow from its 31 territories.
Fellow new opener Run All Night landed in second with an $11m debut from its 3,171 locations through Warner Bros.
That compares poorly with the bows of previous Jaume Collet-Serra and Liam Neeson collaborations: Non-Stop ($28.9m) and Unknown ($21.9m).
Last week's champion Chappie fell over 50% on its way to a $5.7m second weekend. Sony's sci-fi has taken $23.3m and is unlikely to come close to Elysium's final $93.1m result, let alone District 9's $115.6m.
Fox's Kingsman: The Secret Service climbed one place to third with $6.2m for $107.4m after five weeks in play, while Warner Bros' American Sniper enjoyed a $2.8m 12th weekend for a sensational tally of $341.4m.
One of the performances of the weekend came from RADiUS-TWC's release of critically acclaimed horror It Follows, which scared up a terrific $160k from its four locations to deliver a $40,022 average.
Tom Quinn, co-president of RADiUS-TWC, commented: "The best reviews of the year, smart horror fans, sex, and Friday the 13th combined to deliver an extraordinary opening. We're looking forward to a robust theatrical expansion filled with dread and mayhem."
This week sees wide releases for Lionsgate/Summit's The Divergent Series: Insurgent, Open Road's The Gunman and Pure Flix's Do You Believe?
Drafthouse's Spring, Freestyle Releasing's Zombeavers and Amplify's Kumiko, the Treasure Hunter are among the films receiving limited releases.
Confirmed top 10 North America Mar 13-15 2015
Film (Dist) / Est wkd gross / Est total to date
1. (-) Cinderella (Buena Vista) WDSMPI $67.9m -
2. (-) Run All Night (Warner Bros) WBPI $11m -
3. (4) Kingsman: The Secret Service (Fox) Fox International $6.2m $107.4m
4. (2) Focus (Warner Bros) WBPI $5.74m $44m
5. (1) Chappie (Columbia) SPRI $5.70m $23.3m
6. (3) The Second Best Exotic Marigold Hotel (Fox Searchlight) Fox International $5.69m $18m
7. (5) The SpongeBob Movie: Sponge Out Of Water (Paramount) PPI $4m $154.6m
8. (7) McFarland, USA (Buena Vista) WDSMPI $3.6m $34.9m
9. (6) Fifty Shades of Grey (Universal Pictures) UPI $2.86m $161.3m
10. (9) The DUFF (CBS/Lionsgate) Lionsgate International $2.85m $30.3m