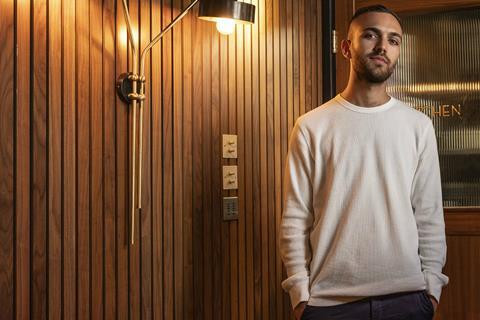 Screen Star of Tomorrow Moin Hussain, Egypt's Mohamed Siam, North Macedonia's Teona Strugar Mitevska and UK-Yemini filmmaker Sara Ishaq are among the 16 directors who will present projects at the 16th edition of the Atelier co-production meeting in May.
The initiative, run by Cannes Cinefondation, will take place within the framework of the Cannes Film Festival, from May 14-21.
A total of 15 projects from 15 countries will attend this year.
Hussain will present his debut feature project Birchanger Green, about a directionless man in his thirties who works nightshifts at a fast-food restaurant in the real-life Birchanger Green motorway service station in Essex.
On hearing his estranged father has died, he decides to get to the bottom of who his father really was and what led him to abandon him many years ago.
A Screen Star of Tomorrow in 2018, Hussain's last two shorts Real Gods Require Blood and Naptha, debuted in Cannes Critics' Week in 2017 and 2019 respectively.
Egyptian director Mohamed Siam, whose past credits include the IDFA-opening character documentary Amal, will attend with his debut fiction feature Carnaval.
Siam has described it as comedy mixing ingredients from Amal – which followed a young female revolutionary – and his previous film Whose Country?, an up-close portrait of Egypt's feared plainclothes police officers.
Mitevska, who won multiple awards for God Exists, Her Name is Petrunya, will attend with her sixth feature project The Happiest Man In The World.
Co-written by Mitevska with Bosnian and Herzegovinian scriptwriter Elma Tataragić, it is a tale of love and forgiveness set in Sarajevo 20 years after the Yugoslav war. It revolves around a woman who meets a man at a dating event in Sarajevo, unaware he is the man who shot her during the conflict.
Ishaq will present debut feature project The Station. Inspired by the experiences of women caught up in the ongoing war in Yemen, it revolves around the dynamic between a militant woman, whose son died in battle, and her pacifist niece, who does not believe violence is the answer.
The Cannes Cinéfondation launched the Atelier in 2005 to support a new generation of filmmakers. To date, it has supported 233 projects, 171 of which have been released theatrically and 14 of which are currently in pre-production.
The announcement of the Cinefondation selection came amid intense industry speculation over whether Cannes Film Festival will take place this year due to the coronavirus outbreak. Cinefondation's decision to release the Atelier line-up suggests it is business as usual at the festival for now.
The full list of projects:
Dayao Swims Against The Flow dir. Zhang Tao (China)
A Male dir. Fabian Hernández (Colombia)
Carnaval dir. Mohamed Siam (Egypt)
Animal dir. Sofia Exarchou (Greece)
Marichjhapi dir. Bauddhayan Mukherji (India)
The Happiest Man In The World dir. Teona Strugar Mitevska (North Macedonia)
Tiger Stripes dir. Amanda Nell Eu (Malaysia)
Fucked Up Tribute To Motherly Love dirs. Esther Rots, Dan Geesin (Netherlands)
Some Nights I Feel Like Walking dir. Petersen Vargas (Philippines)
Le Serviteur dir. Marian Crisan Romania
Frost dir. Pavle Vučković (Serbia)
The Store dir. Hanna Sköld (Sweden)
Balkaya dir. Emin Alper (Turkey)
Birchanger Green dir. Moin Hussain (UK)
The Station, dir Sara Ishaq (Yemen)