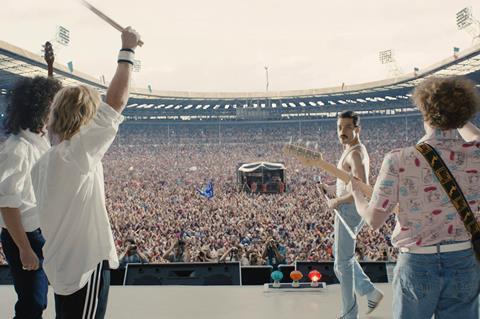 Cinema-going in Europe decreased by approximately 3.3% across 2018, according to provisional figures for the year from the International Union of Cinemas (UNIC).
There were 1.29bn admissions across the continent, down from the record 1.34bn in 2017.
However, box-office takings across 37 UNIC countries have passed €8bn in total for the fourth year in a row. (UNIC said it will report final figures as soon as all territories have reported their total revenues.)
The UK was the only one of the five major EU markets in which admissions increased. Both box office and admissions fell significantly in Germany (box office -14.8%, admissions -13.9%), Austria (box office -9.5%, admissions -11.4%) and Switzerland (box office -12.6%, admissions -12.9%), with Italy (-5.0% and -6.9% down), Greece (-7.7% and -7.4% down) and Portugal (-4.0% and -5.9% down) also experiencing declines.
The extended warm summer and the popularity of the FIFA World Cup were both thought to have had an effect on results.
In contrast, the UK garnered 177 million admissions in 2018, the highest level since 1970. Box-office receipts held steady at £1.277 billion – a minor 0.1% drop.
Additionally, the majority of territories in Central and Eastern Europe and the Balkans experienced another year of growth, including the Czech Repubic (box office +13.2%, admissions +7.3%), Croatia (box office +7.8%, admissions +1.4%), and especially Serbia (box office +19.9%, admissions +18.0%).
Admissions per capita remained stable at 1.5 visits per year, with France and Ireland again showing the highest rates of cinema-going, at 3.2 and 3.3 respectively, according to UNIC.
EAO shows drop in EU
The decline was consistent across EU member countries, according to the first estimates by the European Audiovisual Observatory (EAO) released today (February 7).
The EAO estimates total admissions were down 3% to 955 million – the fourth lowest level in the EU since 2009, and the lowest since 911 million in 2014.
The Observatory's figures for France showed admissions down 4.3% to 200.5 million and box office steady at €1.38bn. The UNIC report noted a record national market share of 39.3%, with three of the top five films in France being national productions.
Russia experienced a 5.2% admissions drop to 200.3 million and a 5.3% revenue fall to RUB 50.3bn. Spain fell just short of 100 million admissions with a 2.0% drop and 1.9% box office fall to €597m.
Cinema attendance decreased in 13 EU markets and increased in eight, remaining stable in four of the 25 countries for which data is available.
The EAO notes these first figures suggest the overall drop was caused by a year-on-year decline in admissions to US films.
However the UNIC report notes US films held the top spot by admissions in 27 of the 37 countries it surveyed and Fox's Bohemian Rhapsody took the top spot in eight territories.
Just seven territories – Denmark, Lithuania, Luxembourg, Poland, Russia, Serbia and Turkey – had a top film of local origin.
The market share for locally-produced films increased in 13 and decreased in 11 EU territories according to the EAO.
Both UNIC and the EAO will release more detailed data on performance in each territory in Spring 2019.