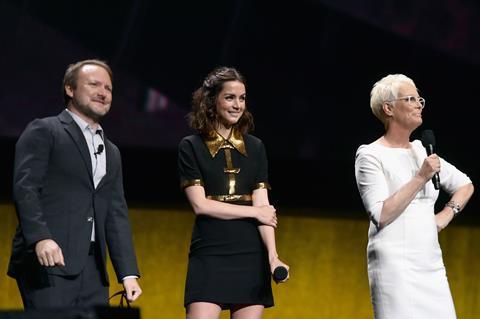 Lionsgate used its platform at CinemaCon on Thursday (April 4) to offer the crowd a flavour of what to expect from Rian Johnson's upcoming murder mystery Knives Out starring Daniel Craig at the head of an all-star cast.

Footage revealed Craig to be one of two sleuths alongside Lakeith Stanfield who arrive at a mansion to investigate the apparent murder of the patriarch (Christopher Plummer) of a hateful family.
The clip contained many familiar tropes from the genre and boasted much dark comedy as Chris Evans spits bile at his relatives, telling each and every one to "Eat shit". The sneak peak ended with Craig uttering in a southern drawl that none of the suspects had been eliminated from his inquiries.
Johnson, joined on stage by cast member Jamie Lee Curtis, said he remained a die-hard Agatha Christie fan and wanted to pay homage to the British master of the whodunnit in a contemporary US setting. The cast includes Michael Shannon, Don Johnson, Toni Collette, Katherine Langford, and Ana de Armas. Knives Out opens on November 27.
The studio kicked off its presentation at the Colosseum in Caesars Palace, Las Vegas, by announcing a joint venture with Point Grey Pictures' Seth Rogen, Evan Goldberg, and James Weaver to produce multi-platform content.
Point Grey Pictures produced SXSW audience award winner Long Shot, the comedy starring Rogen and Charlize Theron that Lionsgate screened to show attendees on Thursday afternoon (4), and the company's credits include Sausage Party, Neighbors, and Blockers, as well as TV shows Future Man, Black Monday, and Preacher. Long Shot opens in the US on May 3.
The company will continue to operate autonomously under Rogen, Goldberg and Weaver, who will work closely with Lionsgate's executive teams to develop content for the film, scripted and unscripted television, digital and location-based entertainment businesses.
"Lionsgate is a leader in entertainment with few equals," said Rogen, Goldberg and Weaver. "Over the years we have developed some of our biggest hits with Joe Drake and Nathan Kahane – they have been among our biggest supporters. We are thrilled to be partnering with them, alongside Kevin Beggs in TV, and the entire Lionsgate team."
"Seth, Evan and James are visionary entrepreneurs and three of the greatest storytellers in the business," said Lionsgate CEO Jon Feltheimer. "We look forward to a partnership that turbocharges the continued ramp up of our film and television slates while creating exciting opportunities across our entire portfolio of businesses. Our investment in the Point Grey team promises great returns for our two companies, our partners, and audiences around the world."
"From our days at Mandate and Good Universe to our experience working with them here at Lionsgate, we have had the pleasure and privilege of working with Seth, Evan and James on some of their most iconic films and we could not ask for more incredible or collaborative creative partners," said Lionsgate motion picture group chairman Joe Drake.
"We believe the best from Point Grey is yet to come. The partnership we're announcing today is an organic expansion of our relationship with these talented creators. In addition to the outstanding comedies that have been the hallmark of Point Grey, we are equally excited to see this company continue to push creative boundaries and develop dramatic material as well. As they move in diverse directions artistically, we look forward to continuing to build our businesses together."
Drake and Kahane struck an overall deal with Point Grey Pictures at their production and distribution company Good Universe, which Lionsgate acquired in 2017.
The Lionsgate-Point Grey Pictures collaboration follows one with talent management and production company 3 Arts Entertainment. Lionsgate by motion picture group president of business and legal affairs Patricia Laucella, executive vice-president of business and legal affairs Bonnie Stylides, television group president Sandra Stern, and television COO Laura Kennedy brokered the deal with UTA and law firm Felker Toczek on behalf of Point Grey Pictures.
*KJ Apa (Riverdale) has been cast as Christian Jeremy Camp and Gary Sinise will play his father, Tom Camp, in the biopic I Still Believe, the first film to emerge under a first-look pact between Lionsgate and Kingdom Studios. Production is set to commence this spring ahead of a March 20, 2020, release date. Jon Erwin and Andrew Erwin direct from a screenplay by Jon Erwin and Jon Gunn, and produce with Kevin Downes. Kingdom is behind the 2018 box office hit I Can Only Imagine.