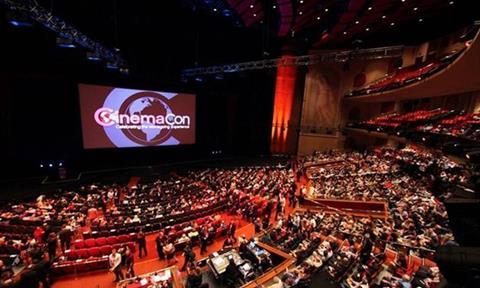 CinemaCon organisers expect to post programming details by June 21 for International Day, set to take place on August 23 at the delayed convention in Las Vegas.
The exhibitor convention, which typically takes place in spring and was postponed due to the pandemic, said it was monitoring travel restrictions impacting international attendees.
A tentative US-centric schedule has been posted and all five major studios and MGM/UA Releasing are slated to present upcoming slates in The Colosseum at Caesars Palace. CinemaCon runs August 23-26.
National Association of Theatre Owners president and CEO John Fithian and Motion Picture Association chairman and CEO Charles Rivkin will deliver the traditional industry address on Tuesday morning (August 24) prior to the MGM/UAR session.
Industry panels were still being finalised at time of writing, however the early theme appears to be adapting to the work environment in post-pandemic times, with the only two sessions tentatively announced so far covering return to work, and changes to concessions and food service management.
Sony Pictures will be the first studio to present its upcoming slate on August 23. Disney and Universal/Focus will present on Wednesday, and Paramount and Lionsgate are scheduled for Thursday.