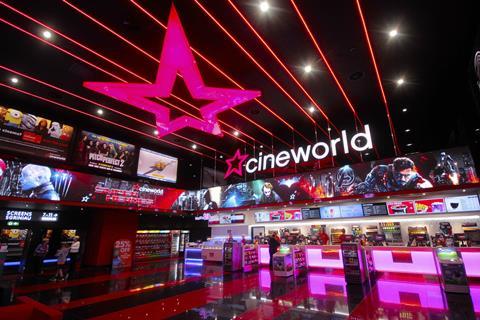 UK-based exhibitor Cineworld has landed an additional $250m in financing as it prepares to reopen its multiplexes across the UK, US and Europe.
In a trading statement, the company said it had agreed terms of a new $250m secured debt facility with a maturity of 2023 with a group of private institutional investors. This is in addition to a credit facility increase of $110 million, announced in May.
Cineworld said the financing "further strengthens the Group's balance sheet as cinemas begin to re-open around the world."
Last week, the exhibitor confirmed dates to begin reopening its chains of theatres, which include Regal (in the US), Cineworld and Picturehouse (in the UK & Ireland) and Cinema City (throughout Europe).
The full list of scheduled opening dates, subject to government confirmation, are: US on July 10; UK on July 10; Poland on July 3; Czech Republic on June 26; Slovakia on June 26; Israel on July 9; Bulgaria on July 3; Hungary and Romania - TBC but anticipated for week of July 3.
"With the easing of lockdown restrictions in key jurisdictions, Cineworld is excited to welcome customers back to cinemas and enjoy the best place to watch a movie," the statement added.
As previously announced, Cineworld will adopt new safety measures due to the ongoing Covid-19 pandemic, including a booking system to ensure social distancing within screenings.
Every cinema across the UK closed on March 20 but prime minister Boris Johnson confirmed they could reopen from July 4, provided the rate of Covid-19 infections slows. The UK Cinema Association (UKCA) and Film Distributors' Association (FDA) are preparing guidelines for the safe reopening of cinemas, which are expected to be published this week.
Cineworld pulled out of a $2.1bn deal to acquire Canadian giant Cineplex earlier this month, which it blamed the breakdown on "certain breaches" of the deal's terms alongside having suffered a "material adverse effect" that meant it could not continue with the buyout.
However, Cineplex has said it will soon start legal proceedings against Cineworld for stepping away from the deal, which it believes was abandoned as a result of the economic impact of the virus crisis.