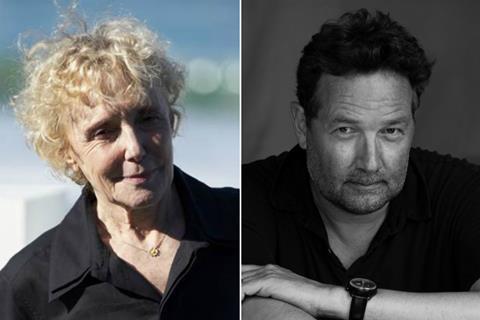 French director Claire Denis and Greek cinematographer Phedon Papamichael have been confirmed as the final 'Masters' at the sixth edition of Qumra, the annual talent incubator event of the Doha Film Institute (DFI), running March 20 to 25 this year.
They will join previously announced US director James Gray, Austrian filmmaker Jessica Hausner and awarding winning sound editor Mark Mangini. The five 'Masters' give a master-class as well as one-on-one advice to select DFI-supported projects invited to the event.
Denis, whose most recent credits include High Life and Let The Sunshine In, is currently working on pre-production for Nicaragua-set, English-language feature The Stars At Noon, starring Robert Pattinson and Margaret Qualley.
Cinematographer Papamichael's 45 credits include While You Were Sleeping, Nebraska, and most recently, the Bafta-nominated Ford V Ferrari (2019).
"Denis' daring portrayals of the human condition amidst complex social and cultural landscapes continue to embolden filmmakers to defy standard convention and embrace the poetry of storytelling," aid filmmaker and DFI artistic advisor Elia Suleiman. "Papamichael has an exceptional ability to visually immerse audiences in performances with his extremely precise cinematic compositions," he added.
This year's edition of Qumra will offer networking and development opportunities to 47 projects from 20 countries as part of its mission to support filmmakers from the region and beyond.
Projects in development participate in group and individual sessions with Qumra Masters and industry mentors in script consulting, legal, sales, marketing and co-production advice, along with individual matchmaking.
Projects in post-production are presented in a series of closed rough-cut screenings to leading festival programmers, broadcasters, market representatives, sales agents and distributors.
This year's selection of projects includes seven TV series in development for the first time.
They include Tunisian filmmaker Erige Sehiri's The Source, set against the backdrop of the frontline of the Arab Spring; Lebanese directors Nadim Tabet and Mounia Akl's Faraya, about an investigation into the death of a maid in a ski resort, and supernatural drama Meskoun by Morocco's Hicham Lasri.
There are also two Qatari TV projects including The Life Of Abdulla in which Qatari fashion consultant and influencer Abdulla Al Abdulla goes behind the scenes of his life.
Invited feature film projects in development include Syrian's director Soudade Kaadan Nezouh about a young Syrian girl whose life is opened up to new possibilities after a missile destroys the roof of her house. It is Kaadan's second feature after The Day I Lost My Shadow which won Venice's Lion of the Future award in 2018.
Projects in post-production include Kamir Aïnouz's coming-of-age tale Honey Cigar about a young Paris-raised Algerian girl, whose life family life and sense of identity is challenged by the rise of fundamentalism in her native Algeria in the early 1990s
The full list of Qumra invited projects (loglines provided by the DFI)
Development- Feature Narrative
Nezouh (Syria, Lebanon, France, Germany, Qatar) by Soudade Kaadan is a story about a bomb falling on Zeina's house, only to open a window to a new life.
Omar La Fraise (Algeria, France, Qatar) by Elias Belkedar is Omar's story, a crook forced to be on the run in Algeria, who needs to quiet down to avoid prison. Deprived of adrenalin, he swings between his urges and strikes his own balance.
Queens (Morocco, France, Belgium, Qatar) by Yasmine Benkiran follows 27-year-old Zineb, who escapes from prison in the hopes of giving her child a brighter future. On the road, she holds up a truck and takes the young Asma hostage while forcing her to ride them away from the police. From this road trip in a truck soon flourishes a deep friendship.
Vanishing (Lebanon, Qatar) by Lucien Bourjeily tells the story of single mother Rita, who juggles her family and her work with the crucial help of Zofan, a domestic worker, whose mysterious disappearance draws Rita into an investigative journey with unexpected consequences.
81' (Qatar) by Dawood Al-Anwari and Ali Al Ansari is based on a true story about the underdog Qatari youth teams' historic splash at the '81 FIFA Youth World Championships in Australia.
Behind Closed Doors (Qatar) by Hend Fakhroo tells the story of six-year-old Leila, who wakes up one day and finds her mother gone with only her father to take care of her. After months, the small family finally settles into an emotional equilibrium, only to have the mother suddenly return.
Beirut 1931 (Palestine, Qatar) by Kamal Aljafari - A man arrives in his native Jaffa after the sudden death of his uncle, who was kept in a mental hospital for over 25 years. Like a lurking shadow, the man would only occasionally visit his family back home – but this trip quickly leads him into an oscillation between the present crisis and memories from the last 70 years.
Dowayha (Qatar) by Mahdi Ali Ali follows a boy going through a psychological change process to discover the reason for the divorce of his parents.
In Sabah (Qatar) by Ben Robinson a rebellious Qatari teenager directs her fellow drama students to broadcast their controversial performance live across social media after a conservative Twitter campaign shuts down a high school play for its satirical content.
Down and Out in Doha (Qatar) by Waheed Khan and Fahad Al Kuwari is the story of a young, reckless Qatari man, who abandons his fortune in a challenge and learns that there is more to life than money.
Arabnovela (Qatar) by A.J. Al-Thani is a satirical story about how society and family can crush dreams, including that of a young woman named Noor, who dreams of becoming a khaleeji telenovela actress.
Development - Feature Documentary
Kashkash (Lebanon, Germany, Qatar) by Lea Najjar explores how the age-old Kash Hamam game of the Levant connects people of all religious sects and political views, in a region torn apart by conflicting traditions, rapid modernisation, recurring wars, forced migration, and a myriad of political struggles.
The Flower Men (Yemen, USA, Qatar) by Yousra Ishaq tells the story of an ancient Yemeni tribe that is split by a bitter war threatening their homeland, in a country shrouded in complexities.
Machtat (Tunisia, France, Lebanon, Qatar) by Sonia Ben Slama follows the lives of Fatma and her daughters Najeh and Waffeh; 'machtat' wedding musicians in the small Tunisian city of Mahdia, escape the hardship of their daily lives through performance.
Searching for Kikhia (working title) (Libya, Lebanon, Qatar) by Jihan Kikhia follows a daughter unravelling the disappearance of her father, the peaceful opposition leader to Qaddafi, and pieces together her mother's 19-year search to find him.
Post-Production - Feature Narrative
Streams (Tunisia, France, Luxembourg, Qatar) by Mehdi Hmili is a film about Amel, a young Tunisian mother seeking her son Moumen, who went missing after the scandal of her affair.
The Maiden's Pond (Lebanon, Qatar) by Bassem Breche is set in a small Lebanese town, where a mother struggles to lend support to her estranged and newly-divorced daughter, as both women come to terms with their unresolved wounds.
Honey Cigar (Algeria, France, Qatar) by Kamir Aïnouz is the coming-of-age story of a teenage Algerian girl born and raised in France, set against the rise of Islamic fundamentalism in Algeria in the 1990s.
The Translator (Syria, France, Belgium, Switzerland, Qatar) by Rana Kazkaz and Anas Khalaf is set at the start of the Syrian Revolution in March 2011, when a political refugee returns illegally to Syria and risks everything to free his brother from the Assad regime.
The Winter Within (India, France,Qatar) by Aamir Bashir captures the romantic crossroads of Nargis who faces a new beginning with Yaseen just as her husband returns.
Liborio (Dominican Republic, Puerto Rico, Qatar) by Fernando Martinez Sosa follows Liborio a Dominican peasant who disappears in a hurricane and returns as a prophet, only to witnesses the changes in his community as the country is invaded by the US Marines.
Noche De Fuego (Mexico, Germany, Brazil, Qatar) by Tatian Huezo shines a light on life in a war-torn town, seen through the eyes of three young girls on the path to adolescence.
Post-Production - Feature Documentary
· The Earth Doesn't Move (Tunisia, France, Italy, Qatar) by Yosr Gasmi and Mauro Mazzocchi, follows three protagonists' lives while at a reception centre for asylum seekers at the France-Italy border.
After A Revolution (Italy, Libya, United Kingdom, United States of America, Netherlands, Sweden, Denmark, Norway, Qatar) by Giovanni Buccomino documents a brother and sister's epic, challenging, yet intimate story of love and rebellion over six years in post-revolution Libya.
School of Hope (Morocco, Finland, France, USA, Qatar) Mohamed El Aboudi fuses the story of a nomad tribe struggling to obtain education for their children, a young teacher and the government's indifference towards rural regions.
Their Algeria (Algeria, France, Qatar) by Lina Soualem recounts the longstanding journey of exile of the filmmaker's grandparents Aïcha and Mabrouk, a couple of Algerian immigrants who have lived in France for sixty years and whose lives were a succession of separations and silences.
Wake Up on Mars (Switzerland, France, Qatar) by Dea Gjinovci follows a ten-year-old Roma boy living in Sweden who struggles to come to terms with the mysterious Resignation Syndrome that has put his two sisters into a coma.
The Labudovic Reels (Serbia, Qatar) by Mila Turajlić is an archival road trip with Stevan Labudovic investigating the role of cinema in the liberation struggles of the Third World and reconstructing the birth of the Non-Aligned Movement.
Qumra Series
In The Source (Tunisia, Switzerland, Qatar) by Erige Sehiri, five childhood friends come together to investigate the mysterious death of Hicham, an older student, and end up on the frontline of the Arab Spring.
The Closet Sessions (Jordan, Qatar,) by Ahmad Satti Ibrahim is a musical web series set in a walk-in closet which serves as a platform for alternative Arab artists to showcase their talent.
Faraya (Lebanon, Qatar), by Nadim Tabet and Mounia Akl tells the story of an inexperienced police officer investigating the death of a maid at the high-end Faraya ski resort in Lebanon.
Heim (Syria, Lebanon, Germany, Qatar) by Liwaa Yazji and Mohammad Abou Laban explores the psychological impact of escaping war when a murder in a refugee centre in Berlin turns old scars into fresh wounds.
Meskoun (Morocco, Lebanon, Tunisia, Egypt, Qatar) by Hicham Lasri is the mysterious story of Lotfi, who shortly after losing his fiancé drowns during an illegal emigration attempt only to reappear a month later, buoyed by the souls of the seven people that drowned alongside him.
Al Zubara (Qatar) by Hamad Al Mansouri is a futuristic take on Qatar where Jassim Mohammed sets out to avenge his brother's murder.
The Life of Abdulla (working title) (Qatar) by Abdulla Al Abdulla follows Abdulla through to the highs and lows of developing a high-end fragrance line that can compete with the best boutique brands in the world.
Qumra Shorts
Olayan (Qatar) by Khalifa Al Marri follows the epic journey of 6-year old Hamad's quest to rescue his best friend – a baby camel calf – from an unfortunate fate.
Al-Sit (Sudan, Qatar) by SuzannahMirghani is set in a Sudanese cotton-farming village, where 15-year-old Nafisa's parents have arranged her marriage to Nadir, a young Sudanese businessman living abroad. However, before any wedding can take place, Nafisa's grandmother and powerful village matriarch Al-Sit must first give her blessing.
J'ai Le Cafard (Kuwait, Egypt, Sudan, Qatar) by Maysaa Al Mumin is the story of a woman in her forties, who struggles to make sense of her downhearted mood until she encounters a cockroach in the office toilets.
Woman of Steel (Okht Rjal) (Jordan, Qatar) by Obada Yousef Jarbi is a story about three unusual Jordanian women who capitalise on their skills to provide for their families in the absence of their husbands.
In Under Her Skin (Qatar, Algeria, France) by Meriem Mesraoua when her mother prohibits her from biting her nails, Sarah has to abide by new rules that she does not fully understand. By regaining control over her movements and projected image, Sarah slowly redefines her attitude towards herself and others.
Ander (Qatar, Kazakhstan) by Alina Mustafina is a short documentary about the world of an energetic 5-year-old-boy who enjoys his childhood, despite his asthma and a rare dairy allergy.
Emily (Greece, Qatar) by Anna Prokou follows a Filipina singer in Doha as she opens her 'box of trauma' and confronts a painful past in her only chance to break free.
In Ghareeb (Stranger) (Qatar, France) by Yasser Mustafa and Christophe Buffet the security guard of an abandoned elementary school explores the remains of the neighbourhood's former residents, weaving their mysteries into his own narrative.
Under the Lemon Tree (Qatar, Palestine) by Noor Alasswad chronicles how an exiled Palestinian woman partakes in a humble fireside repast under a lemon tree that takes her back through the decades to her homeland.
Ode to Loneliness (Qatar, Lebanon) by Rawane Nassif introduces audiences to a woman, who lives alone in a cubical hotel room with a view of the city where she films herself, the city, and her dreams over a one-month period.
And Then They Burn the Sea (Qatar) by Majid Al-Remaihi is a reflection on the memories of a mother with dementia, the film threads through a history of images, personal archives, cultural motifs as an ode to the fragility of memory.