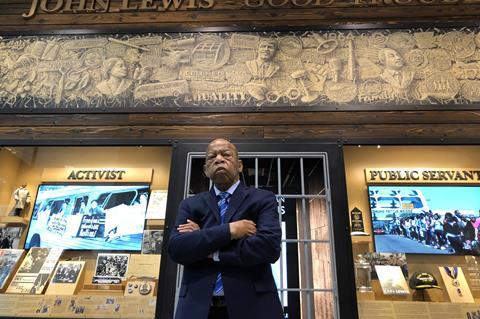 CNN Films has partnered with Trilogy Films and Color Farm Media to develop a documentary about Civil Rights icon John Robert Lewis.
Dawn Porter (Gideon's Army) will direct the film that delves into the life of Georgia Congressman. AGC Studios is co-financing and subsidiary AGC International will launch sales in Cannes.
CNN Films retains North American broadcast rights. Other US rights for the film, including theatrical distribution, remain available.
Porter and Laura Michalchyshyn produce for Trilogy Films, with Erika Alexander and Ben Arnon of Color Farm Media. The executive producers are Amy Entelis and Courtney Sexton for CNN Films, and Stuart Ford and Rachel Traub for AGC Studios.
Porter started her year of principal photography with the Congressman in September 2018, as he began an exhaustive campaign schedule for himself and others ahead of the 2018 US midterm elections, and continued through the first year of the 116th Congress. Porter will continue to follow the Congressman through 2019.
"John Lewis is a national treasure whose leadership paved the way for a generation," said Porter. "In much the same way as his life and work has been shaped by great civil rights leaders, Congressman Lewis continues to serve the country, introducing legislation to protect our most fundamental rights.
"There has never been a more urgent need for the type of moral and compassionate leadership that he embodies. I am so honored to be directing this documentary for CNN Films, in partnership with AGC Studios, and am excited to show the world how John Lewis continues to make what he calls 'Good Trouble'."
"CNN Films is honored to be a part of telling Rep. John Lewis' historic life through Dawn's film," said Amy Entelis, executive vice-president for talent and content development at CNN Worldwide, and Courtney Sexton, vice-president for CNN Films – both of whom are executive producers on the film. "We hope generations to come will learn from Mr. Lewis' remarkable American story."
CNN Films is behind 2018 documentary hits RBG, Three Identical Strangers; and Apollo 11, soon to be broadcast as a CNN Films documentary, following its already record-setting theatrical run.
Stacey Wolf, vice-president of business affairs, and Kelly MacLanahan, assistant general counsel, brokered the deal for CNN Worldwide on behalf of CNN Films. Victoria Cook of Frankfurt Kurnit Klein & Selz represented the filmmakers.