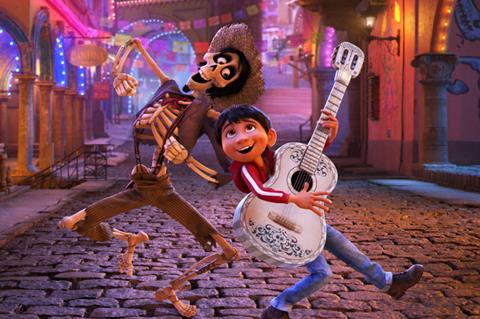 UK Top Five
| | | | | |
| --- | --- | --- | --- | --- |
| Rank | Film / Distributor | Weekend Gross (Fri-Sun) | Running Total | Week |
| 1 | Coco (Disney) | £3.35m | £5.25m | 1 |
| 2 | Darkest Hour (Universal) | £3.27m | £10.16m | 2 |
| 3 | The Post | £2.15m | £2.15m | 1 |
| 4 | The Greatest Showman (Fox) | £2.1m | £16.83m | 4 |
| 5 | Jumanji: Welcome To The Jungle (Sony) | £1.8m | £32.4m | 5 |
Today's GBP to USD conversion rate - 1.39
Disney
A competitive weekend at the UK box office saw Disney Pixar's latest animation Coco land in first place. The film started its run with a Fri-Sun total of £3.35m, adding to previews for a non-final official debut of £5.25m.
That's a middle-of-the-pack opening for a Pixar release, landing it between Brave, which opened to £5.27m in 2012, and the original Toy Story, which debuted with £4.59m in 1996. Those films ended on £22.16m and £22.49m respectively, so that's a reasonable benchmark for Coco to aim for.
In terms of more recent Pixar releases, Coco is ahead of Cars 3 - which took £2.63m when it opened in a busy family market alongside Despicable Me 3 and Spider-Man: Homecoming in July 2017 - despite the former being an original property and the latter being the third entry in a franchise. Cars 3 remains the lowest Pixar opening in the UK.
Finding Dory, which opened in the UK in July 2016, started with £8.12m in July 2016 and closed on £43m, an unrealistic target for Coco. A more appropriate comparison would be Disney's non-Pixar animation Moana, a film based on similarly culturally-specific themes (Moana was set among a Pacific tribe, while Coco is based on the Mexican holiday of the Day of the Dead), which opened in December 2016 to £2.34m and went on to gross £20.44m.
Universal
Following a £4.04m opening last weekend, Darkest Hour fell a slim 19% this Fri-Sun, adding £3.27m Fri-Sun to sit second in the chart, a whisker behind topper Coco. After decent midweek takings, the film is up to £10.16m and will almost certainly surpass Pride & Prejudice (on £14.57m) to become Joe Wright's highest-grossing title in the UK, particularly if it fulfils its awards season promise.
Pitch Perfect Three added £374,221 for £14.87m to-date.
eOne
Steven Spielberg's The Post, based on the true story of The Washington Post's publishing of the infamous Pentagon Papers, landed with £2.15m from 551 sites, an average of £3,902.
Boasting an A-list cast of Meryl Streep and Tom Hanks (five Oscars between them), appearing together in the same film for the first time, eOne might have been hoping for a bigger number, but a crowded market restricted the figure to the lower end of Spielberg openings. On the list, it slots in between A.I. Artifical Intelligence (£2.29m) and Bridge Of Spies (£1.68m). The latter went on to gross £7.65m in the UK, a figure that The Post will be hoping to surpass.
Molly's Game added £130,670 for £3.78m to-date.
Fox
In its fourth week, The Greatest Showman recorded a hugely impressive hold, falling only 2% to £2.1m this weekend. The film still played in 521 sites and now sits on £16.83m to-date.
Three Billboards Outside Ebbing, Missouri fell a slim 25% in its second weekend, adding £1.61m Fri-Sun. After performing well throughout the week, the film now sits on £5.22m, surpassing director McDonagh's previous films Seven Psychopaths (£3.15m) and In Bruges (£4.9m).
Ferdinand fell 32%. After taking £218,000 this weekend, it sits on £9.07m.
Sony
Jumanji: Welcome To The Jungle dropped to fifth this weekend in a competitive marketplace. The film still recorded a strong hold, falling only 24% to £1.8m for a cume of £32.4m. By next weekend, it could become Sony's seventh highest-grossing title in the UK, with Spiderman 3's £33.55m well within its sights.
Insidious: The Last Key dropped 44% in its second week, taking a little over £1m for £3.6m to-date. By next week, it should have surpassed the third film in the series, Insidious: Chapter 3, which closed on £3.87m.
All The Money In The World now sits on £2.9m after adding a further £178,000.
Call Me By Your Name fell 35% and is up to £1.43m.
Studiocanal
Liam Neeson action vehicle The Commuter arrived at the UK box office with £1.6m from its 472 sites, an average of £3,390. That's the second-best UK opening for director Jaume Collet-Serra, sandwiched between fellow Liam Neeson action films Unknown (£1.36m) and Non-Stop (£2.65m).
Looking at further Neeson-starring action titles, it's also a better opening than A Walk Among The Tombstones (£1.32m) and the original Taken (£1.17m), though some way behind the latter's sequels.
Looking forward, The Commuter is likely to finish up somewhere between A Walk Among The Tombstones' final gross of £3.73m, and Unknown's final figure of £6.6m.
Paddington 2 added a further £268,000 for £41.4m to-date.
Trafalgar
Event cinema release Romeo And Juliet, live from Moscow's Bolshoi ballet, took a non-final £164,772 from its 166 sites across a one-day release on Sunday (Jan 22).
Dogwoof
Documentary feature The Final Year, which chronicles the last 12 months of Barack Obama's presidency, opened to £18,430 from 10 sites. Including previews, the film sits on £37,318.
Thunderbird
Benedict Cumberbatch narrated documentary Walk With Me added £7,272 for a total of £103,851.
Altitude
The Florida Project added £5,722 from six sites for a cume of £904,112, while Human Flow posted £4,134 from five sites for a cume of £174,502.
Loving Vincent added £2,370 from 3 sites for a cume of £968,917 and Eric Clapton: Life In 12 Bars added £1,239 from five sites for a cume of £192,972.
MUBI
Philipe Garrel's Lover For A Day played on four sites this weekend, taking £3,648, and will go a little wider this week.
Arrow
A Woman's Life added £1,760 and is now up to £17,813.
Eros International
The Brawler took £1,170 from 3 screens for a £19,575 cume.
Curzon
Jupiter's Moon is up to £11,816.