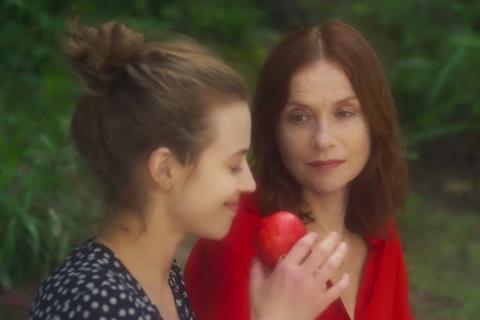 Cohen Media Group has acquired US rights to Anne Fontaine's racy new comedy-drama White As Snow, ahead of its premiere at the Tribeca Film Festival (April 24-May 5) next month.
The film will compete in Tribeca's International Narrative Competition section alongside films including Sharon Maymon and Flawless's Flawless, Bora Kim's House Of Hummingbird and Scott Graham's Run.
A contemporary re-telling of the Snow White fairytale with a comedic and erotic edge, the feature co-stars Isabelle Huppert as evil stepmother Maud opposite Lou de Laâge as her beautiful stepdaughter Claire who sparks her murderous jealousy.
It marks a return to comedy for Fontaine after the two more serious dramas of Marvin and nuns' tale The Innocents, in which de Laâge also co-starred.
In this modern-day retelling of the classic fairy-tale, the step-mother and daughter are living together in the late father's hotel. When stepmother Maud moves to get rid of Claire for good, the young woman flees, finding refuge in a farm, where she encounters seven men who fall under her charm.
Her seven suitors are played by Charles Berling, Damien Bonnard, Jonathan Cohen, Richard Fréchette Vincent Macaigne, Pablo Pauly and Benoît Poelvoorde.
Gaumont is handling sales on the film and the Cohen Media acquisition follows sales to more than 56 other territories by Gaumont.
Other deals include to Singapore (Shaw), Canada (MK2 Mile End), Turkey (Ozen), Czech Republic (Bohemia), Japan (Presidio), Mexico (Nueva Era), Brazil (Mares Filmes), Israël (Lev), India (Star Ent), Switzerland (Impuls), Greece (Odeon), Korea (Company L), Taïwan (Movie Cloud), Russia (Mauris), China (Infotainment), Portugal (Lusomundo).
The film is produced by Mandarin Production, which also recently produced François Ozon's Berlinale Silver Bear winner By The Grace Of God.
Gaumont Distribution will release the film in France on April 10.