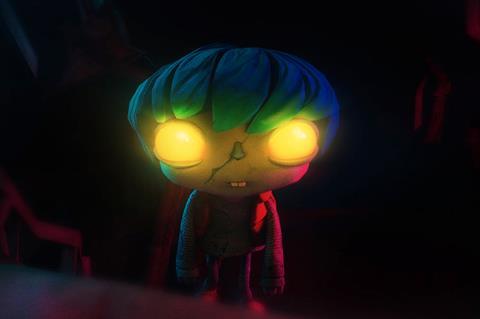 Argentinian filmmaking duo Jorge Tereso and Fernando Maldonado's VR animation Gloomy Eyes has won the top €11,900 (€10,000) Masque d'Or award at the second edition of the NewImages Festival, running June 19-22 in Paris.
The fantasy piece revolving around a part-human, part zombie child living in a land plunged into darkness by the experiments of a mad inventor, is narrated by UK actor Colin Farrell.
The win continues a successful festival run for the work which premiered in Sundance's New Frontier in January and went on to win best VR work at SXSW as well as the Cristal for best VR work at the Annecy International Animation Festival earlier this month.
It is a co-production between immersive studios ATLAS VR, 3DAR AND RYOT as well as Arte France and HTV with the support of France National Cinema Centre (CNC) and the Rhône Alpes region.
US filmmaker Pete Billington won the second €5,000 special jury prize for Wolves In The Walls: It's All Over about a young girl with a hyperactive imagination who believes wolves are lurking in the walls of her home
French film director Jan Kounen received a special jury mention for psychological drama 7 Lives revolving around the traumatised witnesses of a teen suicide on the rails of the Tokyo metro.
The jury comprised US filmmaker Colin Trevorrow, who re-launched the Jurassic franchise with the smash hit Jurassic World, will preside over the jury also featuring choreographer and director Bianca Li, Legendary Entertainment's Katie Calhoon, executive producer of Carne y Arena; and Taiwanese new media artist Hsin-Chien Huang, whose collaborations with Laurie Anderson were recently screened at Cannes Directors' Fortnight
The second edition of the NewImages Festival also saw the launch of the new XR Financing Market, featuring 40 projects, and the creation of an accompanying prize sponsored by immersive project funding platform Kaleidoscope.
The winner of the debut edition was Alexandre Perez's Néphélé, an interactive narrative piece in which the spectator takes on the role of a cloud spirit to help a young girl on her mission to scale a mysterious mountain. It is produced by French company Floréal Films.
The prize consists of being included on the Kaleidoscope Slate Funding 2019 platform, aimed at supporting 10 innovative AR and VR projects, with budgets ranging from $100,000 to $1m.
"Néphélé represents exactly what we are looking for at Kaleidoscope: a work which takes the potential of VR further. It brings together technological innovation with commercial viability," said Kaleidoscope founder René Pinnell.