Allure of small screen tempts latest batch of film stars.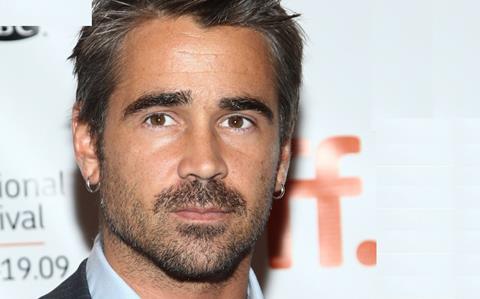 Colin Farrell will play Oliver North and reunite with Yorgos Lanthimos for Amazon Studios, while Penelope Cruz will star as Donatella Versace in FX's American Crime Story anthology, and Peter Sarsgaard is cast as a CIA staffer in Hulu's The Looming Tower.
Farrell and Yorgos Lanthimos are set to reunite on Untitled Ollie North Project, Amazon Studios' limited series about the Oliver North Iran Contra affair.
The project recounts the story of the National Security Council staff member involved in the illegal sale of weapons to Iran to encourage the release of US hostages in Lebanon in the 1980s.
The project is currently in development and will reunite Farrell with Lanthimos, who directed him in The Lobster and A24's upcoming The Killing Of A Sacred Deer.
Farrell starred in the second season of HBO's True Detective and is best known for a film career that includes his breakout role in Tigerland, In Bruges, Miami Vice, Fantastic Beasts And Where To Find Them.
Enzo Mileti and Scott Wilson are writing the script-to-series one-hour drama and Red Hour's Ben Stiller and Nicky Weinstock will serve as executive producers.
Meanwhile Penélope Cruz has joined Fox 21 and FX Productions' Versace: American Crime Story for her first recurring TV role as Donatella Versace.
Production is scheduled to begin in April for a 2018 premiere. Ryan Murphy's third instalment of the American Crime Story anthology series explores the 1997 murder of fashion designer Gianni Versace, to be played by Edgar Ramirez.
The show will be based on Vanity Fair writer Maureen Orth's book Vulgar Favors: Andrew Cunanan, Gianni Versace, And The Largest Failed Manhunt In U.S. History. Nina Jacobson and Brad Simpson serve as executive producers alongside Murphy.
Finally, Peter Sarsgaard has joined Hulu's adaptationThe Looming Tower, a 10-episode drama based on Lawrence Wright's Pulitzer Prize-winning 9/11 exposé.
Sarsgaard joins previously announced Jeff Daniels, Tahar Rahim and Michael Stuhlbarg and will play a CIA analyst who defies orders to share information with other agencies.
The role marks Sarsgaard's return to television after he starred in the 2015 limited series The Slap from NBC.
Dan Futterman and Alex Gibney are adapting The Looming Tower and will serve as executive producers alongside Wright.