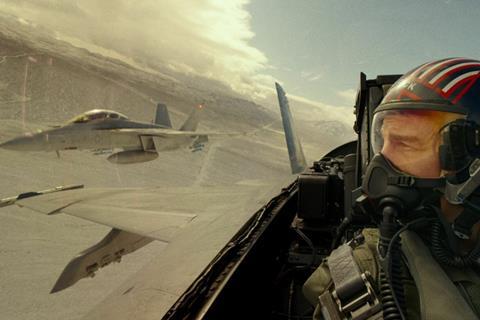 The theatrical experience and the theatrical window are vital for the recovery of the film market - this was the strongest message heard on panels and product presentations on the first day of CineEurope (June 20-23) in Barcelona.
The three highest-grossing films of 2021 were released in cinemas first and exclusively. And the three most pirated films of 2021 were released simultaneously on VoD and in cinemas. Those two statements were projected onto the screen as Phil Clapp and Laura Houlgatte — respectively president and CEO of the International Union of Cinemas (UNIC) — welcomed delegates to this year's CineEurope trade convention in Barcelona.
And while the readjustments in the theatrical window was a sore point of contention between distribution and exhibition in the early phases of the Covid pandemic, the emphasis at the day's panel discussions was very much on collaboration.
"There was a lot of experimentation with windowing, and that was all happening in a vacuum when there was no theatrical," said Niels Swinkels, EVP and managing director, Universal Pictures International, speaking at the morning's executive round table, 'Looking Into The Future'. "Or there were long periods where there was no theatrical or it was heavily impaired with all the restrictions. Now that we are coming out of the pandemic, we are reminded of the power of cinema."
Swinkels added, "For us at Universal, theatrical has always been the cornerstone of what we do. Collaboration between distribution and exhibition has always been important, "but it's even more important now".
Closer collaboration is needed for understanding and engaging with audiences, he added. "We cannot have the streamers have that competitive advantage over us in what they know through their algorithm, and what they track through their streaming services. We have the power of the exhibitors being in local markets."
It is the cinemas that are best placed to "leverage and capitalise on the connection with the local community", he said. "And then work with us in re-engaging, finding out who's coming, who's not coming, why they're coming to see certain films. That's the foundation of knowledge we need to work on together to grow from there."
On the same panel, Tony Chambers, head of global theatrical distribution at Disney, concentrated his message on the need to drive frequency: "Giving audiences something they can't get elsewhere, and getting them to do it again." However, that's not just the responsibility of the cinemas in terms of environment and investment. "It's not a one-sided thing — it's about what we can do together."
Chambers also quoted the mantra of former Disney boss Alan Horn: "'When we make a movie, do I need to see it on the big screen, and do I need to see it now?' And that's more prescient and relevant now than ever."
Rolando Rodriguez, chairman, president and CEO of US exhibitor Marcus Theatres, as well as chairman of US exhibitors association NATO, sounded a cautionary note on pricing. "We all talk about how we can charge more," he said. "But if you talk to an economist on an MBA programme and say attendance is down, frequency is down, let's increase pricing, they'd say, what class in economics did you take to create demand by increasing pricing?"
Jane Hastings, CEO of exhibitor Event Hospitality & Entertainment, which operates in Australia, New Zealand and also now in Germany (via Cinestar), believes that cinemas have further opportunities with pricing, as long as customers are offered a choice, citing her company's policy of offering tickets priced from Aus$10 to Aus$50 within the same auditorium. "And then you vary the amount of premium and affordable by location," she explained. " There's a seat and a price for every part of the market, in every cinema. You have a price point for all customer segments and an experience that matches it."
Chambers said it was not for studios to interfere on pricing, but as an observer, "Pricing is just one element of what we need to do. You can have the lowest price, but if people are not having a terrific experience, they are not going to go back to the cinema again."
Mixed recovery
The day's sessions began with a presentation from Lucy Jones, UK and Ireland executive director of Comscore, showing how recovery in 2022 has varied in the major European territories. In the year to date, until mid June, UK and Ireland box office was running 21% behind 2019, the last full pre-pandemic year, and the full year is forecast by Gower Street Analytics to end 20% down on 2019.
In France, the year to date is 30% down on 2019, and predicted to be 24% down for the full year. Germany is further behind: 36% down so far, but predicted to end the year 21% down. And Spain trails the other three countries: 41% down for the year so far, and forecast to end the year 33% down.
Further data from Jones showed how — in the UK, for example — for most of the year, there has only been one film at a time performing strongly at the box office. That has changed in the past couple of weeks, with Top Gun: Maverick and Jurassic World Dominion both performing strongly together, and now also Disney/Pixar's Lightyear.
In terms of genre, action and animation has been holding up well at the UK and Ireland box office, while drama has seen the biggest fall when compared to 2019, losing £52m in ticket sales — falling by almost half.
That message was also heard in CineEurope's other round table session yesterday, 'Re-Imagining the Big Screen Experience', with speakers from European cinema chains Kinepolis and Cineplexx Group, plus independent cinemas Rio (in London) and Filmhuis Den Haag (The Hague).
"We do more with blockbusters than ever before," said Eddy Duquesne, CEO of Kinepolis. Asked which genres have been missing, Cineplexx CFO and co-owner Christof Papousek replied: "Good comedies are missing." Rio Cinema executive director Oliver Meek said that his venue's Saturday morning kids club had simply run out of suitable titles, and more family films were needed.
In the executive roundtable, Swinkels said, from Universal's perspective, it's about bringing diversity in the slate: "Between our No Time To Die and Paramount's Top Gun: Maverick, we are seeing those older male audiences come out. We are lacking the older female audience still, and the more-sophisticated audience. Older audiences are not coming backing in the same way yet."
Swinkels revealed exit polling on Jurassic World Dominion that showed for 25% of general audiences, this was their first cinema visit post-pandemic, and even higher for families.
"It's great to see tentpoles doing well, but there's a danger in being complacent about that, because we're not quite there yet. There's still a lot of ground to recover."