Jennifer Lawrence took part in a lively panel on Saturday [20] as the Lionsgate roadshow revealed the new trailer for The Hunger Games: Catching Fire.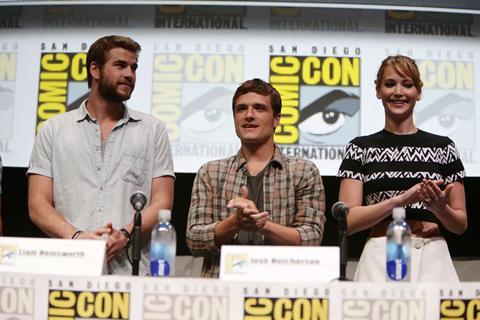 Lawrence was joined on stage in Hall H by co-stars Josh Hutcherson, Liam Hemsworth, Lenny Kravitz and Willow Shields as well as new cast members Jena Malone and Jeffrey Wright.
Director Francis Lawrence, who is on board for the two Mockingjay films that will comprise the final episodes, praised the group as one of the best and most personable casts he had worked with.
"Right after I got the job the thing I wanted to do was fly out to be with [The Hunger Games trilogy author Suzanne Collins]," the director said. "She has been a big part of the process all the way through. It's been fantastic."
Jennifer Lawrence gave an overview of her training regime and explained how she found one seemingly straightforward activity more challenging than any other.
"I had a lot of archery training and I had to have lots of running training because I run weird," she said, adding that she also received plenty of practice in parkour.
"The hardest stunt was probably still just running while trying not to hit myself in the face with my bow."
Lionsgate opens The Hunger Games: Catching Fire on Nov 22.
I, Frankenstein
Earlier in the session I, Frankenstein leads Aaron Eckhart and Yvonne Strahovksi talked about the forthcoming genre tale with director Stuart Beattie and co-writer and property creator Kevin Grevioux.
Footage revealed a dark world not dissimilar to that of Underworld — which like I, Frankenstein was produced by Gary Lucchesi and Tom Rosemberg of Lakeshore Entertainment — in which Eckhart's titular character battles demons and gargoyles in an ancient war that has spilled over into present day.
Eckhart had clearly toned up for the role and said he had been tutored in the kali sticks fighting style and received personal instruction from a Cirque Du Soleil trainer.
Beattie revealed that the contemporary story dips into the past, when his Frankenstein would look less like Eckhart and bear a closer resemblance to the monster of popular mythology.
I, Frankenstein opens on Jan 24, 2014.