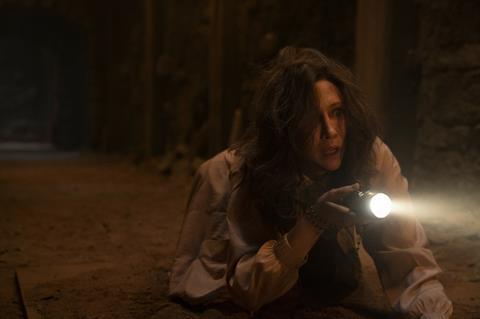 Worldwide Box Office June 4-6 2021
| Rank | Film (Distributor) | 3-day (World) | Cume (World) | 3-day (Int'l) | Cume (Int'l) | Territories |
| --- | --- | --- | --- | --- | --- | --- |
| 1 | The Conjuring: The Devil Made Me Do It (WB) | $50.8m | $57.1m | $26.7m | $33.1m | 45 |
| 2 | A Quiet Place Part II (Paramount) | $33.7m | $138.6m | $19.2m | $50m | 17 |
| 3 | Cruella (Disney) | $29.8m | $87m | $18.6m | $43.4m | 37 |
| 4 | Fast & Furious 9 (Universal) | $13.3m | $255.9m | $13.3m | $255.9m | 8 |
| 5 | Stand By Me Doraemon 2 (Various) | $7.7m | $67.7m | $7.7m | $67.7m | 3 |
Credit: Comscore, all figures estimates
'The Conjuring: The Devil Made Me Do It' scores $51m weekend worldwide
UPDATED: New Line/Warner Bros' The Conjuring: The Devil Made Me Do It was the biggest film at the international, North American and worldwide box office for the latest weekend period (June 4-6).
The third film in the Conjuring series – and the eighth overall in a sprawling horror franchise that also includes a trio of Annabelle titles – grossed a confirmed $27.3m in international markets, an estimated $24m in North America (in its debut frame) and an estimated $51.3m globally. Cumulative totals are $33.8m for international and $57.9m worldwide.
The film was boosted by 41 new territory openings, topping the chart in 31 of those markets. Mexico delivered a powerful $6.7m – dominating with a 71% share of the top five films, and delivering the second biggest opening of the pandemic era.
South Korea ($3.1m), Indonesia ($2.4m), Australia ($2.2m), Spain ($1.9m) and Brazil ($1.7m) were also strong opening markets. UK ($1.5m, down 46%) was the top holdover territory. UK total is $7.6m. All these figures are confirmed.
The Devil Made Me Do It, which is directed by Michael Chaves (The Curse Of La Llorona), is chasing big totals achieved by previous instalments. The Conjuring 2 grossed $102m in North America, $219m for international and $322m worldwide in 2016. The Conjuring delivered a similar $137m in North America, $183m for international and $320m worldwide in 2013.
Warner Bros advises that the markets in release represent just over half of the total international footprint, with another 29 openings scheduled over the next two months. Twelve of these open this coming weekend, including France, Russia and Argentina.
Also from Warner Bros, Rurouni Kenshin The Beginning opened top at the Japan box office, grossing a confirmed $4.6m from 481 screens. The film is the fifth in a series that began in 2012 with Rurouni Kenshin: Origins, based on the manga by Nobuhiro Watsuki. All five films are directed by Keishi Otomo.
'A Quiet Place Part II' boosted by UK, Russia openings
Paramount's A Quiet Place Part II grossed an estimated $19.2m in its second session in international markets, as well as $19.5m in North America, delivering $38.7m for the weekend globally. Cumulative totals are $50.0m for international, $88.6m in North America and $138.6m worldwide.
For international, the sequel to 2018's A Quiet Place is now playing in 16 markets, representing 47% of the international footprint. On a like-for-like basis, the international cumulative total is 15% ahead of A Quiet Place at the same stage of its run.
The John Krasinski-directed high-concept horror sequel was boosted by four new openings, topping the chart in the UK ($5.1m including previews), Russia ($4.0m including previews) and Poland ($245,000) and landing in second place in Israel ($125,000).
Among holdover territories, strongest were China ($7.1m and third place), Australia ($1.5m and second place), Indonesia ($582,000) and New Zealand ($346,000).
The original A Quiet Place grossed $188m in North America, $153m in international, and $341m worldwide.
Next to open Part II are Mexico this Friday (June 11), France and South Korea on June 16, Japan and Spain on June 18, and Italy and Germany on June 24.
'Cruella' lifted by strong holds and new openings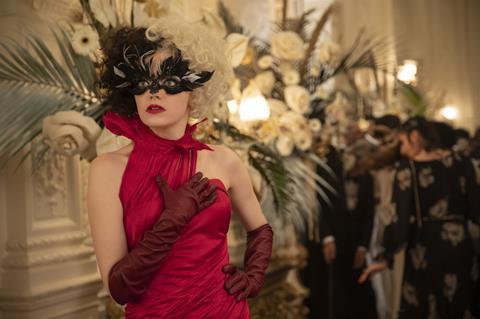 Disney's Cruella grossed an estimated $18.6m in international territories for its second session, up from $16.1m for the debut weekend, and bringing the international total to $43.4m.
In North America, the origin tale for the 101 Dalmatians villain added an estimated $11.2m, taking the total to $43.7m. Global cumulative total is $87.1m.
Cruella is available simultaneously via Disney+ on Premier Access for subscribers, in territories where the service operates.
Although Cruella was boosted by new openings in the likes of Russia (opening in second place with $2.4m and 36% market share) and China (earning $1.8m for Sunday only – placing fourth that day), it was the film's performance in holdover markets that was more noteworthy.
Overall, box office fell by just 7% in holdover territories, rising in Switzerland, Portugal, Brazil, South Korea and Spain, holding steady in Ukraine, and falling gently in Japan, Australia, Poland, New Zealand, Italy, Mexico and Ukraine. Holdover markets were down 1% for the EMEA region, down 6% in Asia-Pacific, and down 16% in Latin America.
In cumulative totals, UK leads the way among international territories (with $6.2m), ahead of Mexico ($5.8m), South Korea ($5.7m), Australia ($2.6m), Russia ($2.4m), Saudi Arabia ($2.2m) and Spain ($2.1m).
The film opens this coming weekend in Belgium, Czech Republic and Hungary, with France to follow on June 23.
'Fast & Furious 9' zooms past $250m in select international territories
UPDATED: Fast & Furious 9 aka F9 delivered a confirmed $14m in its third lap of select international markets, taking the total after three weekends of play to $256.4m. After falling a hefty 81% in its second session, the film has relatively stabilised for the third weekend, dropping 55%.
Justin Lin's sequel is currently playing in just eight territories, led by China, where Fast & Furious 9 stayed top of the box office with $8.8m, for a cumulative total of $203.9m – the biggest MPA title of the pandemic era, overtaking Godzilla Vs. Kong.
Elsewhere, South Korea added $1.7m for a $17.7m total, and Russia added $1.1m for a $15.9m total. Other top markets are Saudi Arabia ($6.9m total) and UAE ($5.1m total).
Upcoming key markets are Australia on June 17, Brazil on June 24, and North America, Mexico and UK on June 25. Spain, France and Germany follow in July.
China saw a relatively quiet box office session at the weekend, with no film earning $10m. Shin-Ei Animation's Stand By Me Doraemon 2 stayed in second place with $7.7m (and a $36.4m total), with A Quiet Place in third ($7.1m and $29.2m total). Cliff Walkers ($3.3m, and $178.5m total) and Love Will Tear Us Apart ($2.5m, and $47.8m total) round out the top five. Cruella's single day box office of $1.8m meant that it missed the top five for the whole weekend period. Figures are from Artisan Gateway.
'Peter Rabbit 2' stays strong in select markets
Columbia Pictures' Peter Rabbit 2: The Runaway added an estimated $4.0m in 14 international markets, down just 20% from the previous weekend, and powered by $2.6m in the UK in its third frame, a drop of just 9%. UK total is an estimated $17.5m, and international total is $45.8m.
The film arrives in China this weekend, and then in Japan (June 25) and France (June 30), with Germany, Italy and Spain to follow in July.
The original Peter Rabbit grossed $115m in North America, $236m in international, and $351m worldwide.
Jason Statham actioner 'Wrath Of Man' adds $2.7m in international
Guy Ritchie's Wrath Of Man added another $2.7m in international at the weekend, opening in five new markets: Poland, Lebanon, Egypt, Israel and Bulgaria. Among these, Israel was the star performer, delivering an estimated chart-topping $294,000 from 25 cinemas – beating fellow debutant A Quiet Place Part II. Wrath Of Man achieved an estimated $224,000 from 151 venues in Poland.
International total to date is an estimated $62.1m for Miramax, which adds to $24.7m in North America for United Artists Releasing and an $86.8m global total.
Miramax estimates that the Jason Statham revenge actioner is running 26% ahead of Ritchie's previous film The Gentlemen in like-for-like territories. The Gentlemen grossed $36.5m cumulative total in North America, $78.7m in international markets, and $115.2m worldwide.