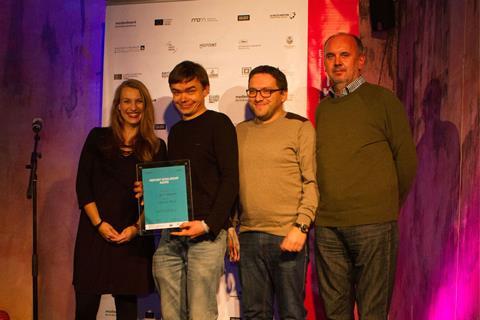 Polish filmmaker Jan P. Matuszynski (The Last Family) was one of the winners at the 19th edition of the Connecting Cottbus East-West Co-production Market (November 8-10).
Matuszynski was presented with the Midpoint Scholarship Award to partcipate in the script and development programme with his third feature project Leave No Traces, which he had pitched in Cottbus with his producer Leszek Bodzak of Aurum Film.
The new project is based on the book by Cezary Lazarewicz about the real events surrounding the controversial and tragic death of high school student Grzegorz Przemyk in 1983, and the director cited such films as Hunger, Bloody Sunday and The Lives Of Others as filmic references.
Bodzak, who had produced Matuszynski's international festival hit The Last Family, which was seen by over 500,000 at the Polish box office last year, revealed that €700,000 of the €2.5m budget is now in place as Canal Plus has come on board as a co-producer and Kino Swiat will distribute theatrically in Poland.
Post Pitch Award
The Post Pitch Award, with post-production services worth €25,000 from Berlin-based The Post Republic, went to the producer-director duo Mina Mileva and Vesela Kazakova for their Bulgarian-UK project Cat In The Wall.
Their fiction debut centres on a Bulgarian single mother whose selfless act of giving a home to a lost cat in a south London housing estate in Peckham provokes an avalanche of problems portraying current British society and touching on such issues as gentrification and Brexit.
The directors' Sofia-based company Activist38 has attracted backing from Bulgarian National Televisio, MEDIA and ARTE as well as the UK company Glasshead Ltd. which plans to stump up around €100,000 through EIS tax relief towards the drama's €374,000 budget.
Best Pitch and WIP
Meanwhile, the co-production market's participants voted for the Ukrainian filmmaker Kateryna Gornostai's feature debut The Floor Is Lava as the winner of the Best Pitch Award 2017 as well as the Producers Network Award with free accreditation to the Cannes event next May.
Filmmakers from Ukraine were also the winners in the new Works in Progress section which presented four projects including Belorussian director Darya Zhuk's Crystal Swan, co-produced with US companies Vice Films and Unfound Content, and Hungary's Bálint Kenyeres' Morocco-set drama Hier.
Yaroslav Lodygin's western-comedy set in the Wild Plains of Eastern Ukraine, Voroshilovgrad, produced by Ukraine's Limelite LLC with Swiss-based Film Brut, nabbed the new WIP Award 2017 worth €35,000 in post-production services sponsored by D-Facto Motion.
A year ago, Voroshilovgrad had been pitched at Connecting Cottbus when the market's participants had voted to give it the Best Pitch Award and the Producers Network Award.
This year's edition - which was attended by such industry figures as ZDF/Arte's Alexander Bohr, DFFB's Ben Gibson, Loco Films' Laurent Danielou, Art & Popcorn's Miroslav Mogorovic, Achtung Panda's Helge Albers, Pallas Film's Martin Hampel, and One Two Films' Jamila Wenske - also included showcases of new projects from Serbian filmmakers and participants in the Midpoint training platform as well as lectures on serial financing and development and a roudntable on Polish-German co-production.