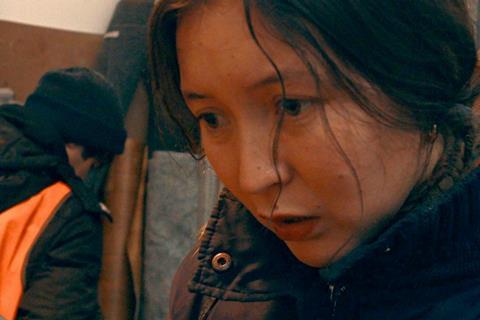 Russian director Sergey Dvortsevoy's Ayka, about a young woman attemping to survive after abandoning her baby in Moscow, was the big winner at Germany's Filmfestival Cottbus (Nov 6-11), taking home the best film prize in the feature competition as well as prize of the ecumenical jury.
Ayka, which is Dvortsevoy's second feature, premiered in competition at Cannes earlier this year and is Kazakhstan's entry for the best foreign- language film Oscar category. The Match Factory is handling international sales.
Russian films regularly garner the main prize in Cottbus which showcases Eastern European cinema. Ayka follows Aleksandr Veledinsky's The Geographer Drank His Globe Away (2013), and Ivan I. Tverdovsky's Corrections Class (2014) and Zoology (2016).
This year's other major prizes were awarded to Tverdovsky's third film Jumpman which won the prize for best director, Martina Apostolova, who won the best actress prize for Nadejda Koseva's Bulgarian drama Irina, and and Reimo Sagor for his performance in Liina Trishkina-Vanhatalo's Take It Or Leave It.
Nadejda Koseva's Irina, about a surrogate mother in Bulgaria, won the award for best debut film.
Serbian director Ognjen Glavonic's The Load won the FIPRESCI prize. The Load premiered in Directors' Fortnight at Cannes and is being handled internationally by New Europe Film Sales. The drama about a dangerous journey through a country devastated by war had been pitched during the 2013 edition of the festival's annual co-production market connecting cottbus.
connecting cottbus awards
Projects from Romania, Lithuania and Turkey were the winners of the pitch awards at the 20th edition of the festival's connecting cottbus East-West co-production market (Nov 8-9).
The coco best pitch award, on which all of the market's participants vote, went to Romanian director Cristian Pascarius €700,000 feature debut October about an 18-year-old boy who must convince his father's suicidal friend to stay alive. October was pitched in Cottbus by Piscariu and producer Oana Giurgiu of Libra Film Productions. They receive a cash prize of €1,500 as well as the Producers' Network Award and accreditation to the Producers' Network at the Marché du Film in Cannes 2019.
October is a co-production with Romania's Hai Hui Entertainment. Transilvania Film has pre-bought Romania rights. The script had been developed at ScripTeast and the Transilvania Pitch Stop.
Irma Puzauskaite's Lithuanian project 9th Step, produced by Lukas Trimonis of Vilnius-based In Script, with Poland's Wajda Studio was awarded the Avanpost pitch packaging award worth around €15,000, by a jury comprised of Simone Baumann (German Films / Saxonia Entertainment), Denis Ivanov (Arthouse Traffic) and Cristian Nicolescu (Avanpost).
9th Step is a coming of age story about a recovering alcoholic struggling to make amends with his estranged teenage daughter.
Romanian director Nicolae Constantin Tanase's Men Of Deeds won the MIDPOINT Consulting award of a tailor-made consultancy for the When East Meets West co-production market in Trieste in January.
Men Of Deeds is a drama about a corrupt village policeman written by Radu Romaniuc and produced by Anamaria Antoci and Ana-Maria Voicu of Tangaj Production.
Finally, Turkish director Cagil Bocut's work-in progress Geranium won the €35,000 post-production award presented by Germany's D-Facto Motion. It is produced by Asli Erdem of Kolor Film and Caglar Bocut of Beatrice Film.