Festival's industry strand crowns work-in-progress winners from Macedonia and Ukraine.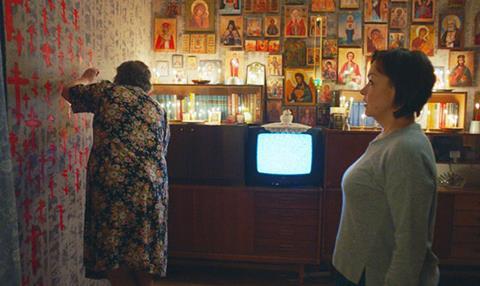 The Grand Prix of FilmFestival Cottbus (8-13 November) went to Russia for the fourth time in the last six years, with filmmaker Ivan I. Tverdovsky taking the top award for his second feature Zoology after also winning top honours for his debut Corrections Class in 2014.
The other previous winners from Russia had been Angelina Nikonova in 2011 with Twilight Portrait and Alexander Veledinsky in 2013 with The Geographer Who Drank His Globe Away.
Moreover, Tverdovsky is the third film-maker to win Cottbus's top prize twice in the festival's 26-year history following Slovakia's Martin Sulik (1993: Everything I Like and 1995: The Garden) and Serbia's Oleg Novkovic (2006: Tomorrow Morning and 2010: White White World).
The international jury, which included veteran Israeli producer Marek Rosenbaum and Serbian actress-director Mirjana Karanovic, described Zoology as ¨an original and emotional story about loneliness, love, hope and lust for life in a society full of bigotry, prejudice, insensitivity for the others. With lots of humour, irony and true emotions, this extraordinary film gave us a different perspective on humanity."
The Russian-French-German co-production - handled internationally by New Europe Film Sales - also picked up the Outstanding Actress Award for Natalia Pavlenkova for her performance as a lonely zoo employee who suddenly grows a tail.
Pavlenkova had also received the Best Actress Award at the Kinotavr Open Russian Film Festival in Sochi when the film premiered there last June.
The International Jury gave its Special Award for Best Director to Hungary's Szabolcs Hajdu for ¨the complicated and fragile construction of family abysses¨ in his latest feature It's Not The Time Of My Life, while the Outstanding Actor Award went to former Polish European Shooting Star Dawid Ogrodnik for his performance in Jan P. Matuszynski's The Last Family.
Matuszynski's film - which is also distributed internationally by New Europe Film Sales and premiered in competition in Locarno last August - also took home the prize for Best Debut, with a special mention going to the Estonian film The Ghost Mountaineer.
Other prizes included the Audience Award for Polish director Mitja Okorn's romantic comedy Planet Single, the Ecumenical Jury's Award for Attila Till's gangsters in wheelchairs dramedy Kills On Wheels and the Dialogue Award for Multicultural Communication for Georgian film-maker Rusudan Glurjidze's debut House Of Others, which is currently Georgia's entry for the foreign-language film Oscar.
Kills On Wheels and House Of Others had both been originally presented as projects as Cottbus' parallel industry event, the East-West co-production market connecting cottbus.
Connecting Cottbus: pitch awards go to Macedonia and Ukraine
At the parallel Connecting Cottbus industry event (10-11 November), an international jury of ZDF/arte commissioning editor Alexander Bohr, sales agent Juliette Lepoutre (Still Moving) and The Post Republic's Michael Reuter chose the Macedonian project Sister for the Coco Post Pitch Award offering in-kind post-production services to the value of €25,000 from Berlin-based The Post Republic.
The feature debut by Skopje-born Dina Duma about two inseparable teenagers whose friendship is put to the test after a classmate's death will be produced by Marija Dimitrova's up-and-coming production house List Production.
Duma participated in Berlinale Talents, Sarajevo's Pack&Pitch, the Manaki Script Lab and the Maia workshops with this project during 2016.
In addition, the participants of Connecting Cottbus voted for the Coco Best Pitch Award, with the most votes going to Ukrainian director Yaroslav Lodygin's crime comedy Voroshilovgrad, to be produced by Vladimir Yatsenko's Kiev-based Limelite with documentary director Miklos Gimes' Swiss-based Film Brut.
The adaptation of Serhiy Zhadan's bestselling novel - named the BBC's Ukrainian Novel of the Decade - will be shot in summer 2017 in Ukraine's Donbass region, according to producer Yatsenko.
Innovations at the 18th edition of Connecting Cottbus included a new venue for the pitchings and one-to-one meetings at Cottbus' Stadthaus as well as the presentation of two works in progress, the Slovak project Piargy, originally pitched in Cottbus in 2011, and the Turkish feature film The Escape, first presented at the pitching forum in 2014, and a special focus on film-making and funding in Ukraine.
International players attending this year's pitching forum and roundtables included producers Helge Albers, Danijel Hocevar, Misha Mogorovic, Olena Yershova, DFFB director Ben Gibson, When East Meets West's Alessandro Gropplero, Transilvania International Film Festival's Dorina Oarga, ACE's Simon Perry, and sales agents Sascha Wieser (EastWest Filmdistribution) and Christoph Mathieu (Rushlake Media).