Wendy Mitchell reports from the festival's inaugural work in progress session; further titles presented were Winter Brothers, Drib, Under The Tree and Tom Of Finland.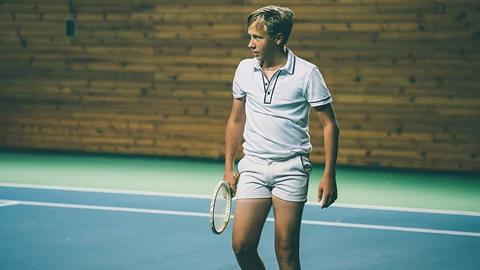 Casting Bjorn Borg's 13-year-old son Leo to play his father in Borg/McEnroe wasn't a publicity stunt, the film's director Janus Metz explained.
"Casting him was a very magical, strange process. We were looking for kids age 13-15 with a talent for sports, and weren't public that this was for a film about Bjorn Borg. We got in a casting tape for Leo Borg," the director said.
"For a long time I didn't want Leo in the movie, because I was genuinely afraid it would be perceived as a publicity stunt," Metz explained. "But he of course looks like his dad, he's one of the best tennis players in Sweden in his age group, it's just so interesting. He had the same kind of closed-off secrecy as his dad had, and this same kind of boxed in, passionate mystery about him.
"We trolled the country for an alternative because I was scared it was going to perceived as a gimmick, but he was just the best. It was magical to work with him." It also meant a moving day on set when Bjorn Borg came along to the shoot simply as a father, and saw his son playing him in a reconstruction of Bjorn's childhood bedroom.
With principal photography now wrapped on Borg/McEnroe, director Janus Metz was at CPH PIX to discuss the film at a creative-minded work-in-progress session, the first time the festival has hosted Nordic works in progress. The session was presented in partnership with the Nordic Film & TV Fond and Nordic Council of Ministers.
Metz – who has previously directed acclaimed 2010 Afghanistan war documentary Armadillo and one episode of True Detective — said he isn't a sports lover, but was drawn to the project because of the psychology of the two men. "The question that kept coming back to me was, 'Why do people want to be the best in the world in anything?' When I read the script [by Ronnie Sandahl], I found a existential, philosophical piece of writing about two individuals on the same kind of quest for some sense of meaning and purpose but who are deeply conflicted within themselves."
"It's been very important to us to try and be true, to excavate how did Bjorn and John become who they were, how was the meeting between them a larger-than-life incident that made everyone stop and look in 1980, when they had their famous Wimbledon Final? That was transcendental, it reached out to people that didn't even care about tennis," he continued.
Tennis fans can be reassured the court action will be exciting on the big screen. "Sometimes we're elevated into that birds' eye perspective and are very poetic about it, and other times it's handheld, it's in the boots of the soldiers. From a technical perspective, we approached it like you do with action scenes and stunts. We had to have doubles of professional tennis players that we can crosscut between, and we had to work for six months for choreographing the tennis sequences like dance moves.
"It's very piece-y and time consuming and in many ways a very boring operation and extremely challenging for the actors. They had to have this technical regime but tennis is also emotional and they had to be in character and acting."
The director said working with Shia LaBeouf playing McEnroe was an interesting process. "Shia in his own words is not an actor, he's someone who is good at opening up…Because he doesn't have a method, you have to set up the parameters and define a playing field where he can free himself.
"When he wants to go, if you're not ready to go, he's going to blow up your whole film set… that's when my documentary experience came in handy. When he's in character you've got to be there."
Metz added, "He amped the set and the extras loved him. We worked really well together, it was super intense."
The film, sold by SF Studios, is being readied for delivery in summer or autumn 2017. The cast also includes Sverrir Gudnason as Borg and Stellan Skarsgård as Borg's coach.
The four other works in progress presentations in Copenhagen were:
Under the Tree, dir Hafsteinn Gunnar Sigurdsson (Iceland):
Sigurdsson said his new film is "more brutal, more dramatic, more violent" than his past films like Paris of the North or Either Way. The family drama has dark comedy and thriller elements too.
The story explores a suburban feud that happens when one neighbour's tree casts a shadow over another's terrace. "We have cases like this that turn violent," the director said. "It's normal people like you and me who end up in a war over nothing. "
He said setting the story in suburbia "makes it more universal. It's a story that could be taking place anywhere right now."
New Europe handles international sales.
Tom of Finland, dir Dome Karukoski (Finland):
"He's a gay icon, he's not just an artist icon," says veteran director Kaurkoski of Finnish artist Touko Laaksonen, the pioneering artist better known at Tom of Finland. "It's a film about freedom of speech, about the right to be who you are. So many of us can relate to that, we've been suffocated by a job, or a school, or a system, or parents, or religion."
He and producer/screenwriter Aleksi Bardy decided they needed to tell about the artist's life and career evolution over several decades.
"This film goes from the 1940s to the 1980s, there is a vast amount of stories to pick from, and the danger is it becomes a string of anecdotes. You have to find the dramatic structure, how do we reveal this character throughout these 40 years of events? That's why it took us our years to write the script with Aleksi."
Karukoski knows the film will inspire debate among Tom of Finland's many fans around the world. "You have so many people who think they know how the Tom of Finland movie should be done…There's no way of pleasing everyone with this film."
Protagonist handles international sales.
Drib, dir Kristoffer Borgli (Norway)
The director's own friend Amir Asgharnejad – an "Andy Kaufman type figure" – plays himself in the fictionalised story about what happens when a creator of viral videos is hired to work in the corporate world.
"Some of the film was improvised but parts are scripted," Borgli explained. There are also documentary-style interviews with Amir.
The film was partially shot in Los Angeles. "We decided to make a re-enactment of those weeks he was in LA in this advertising process," he explained. "He is playing himself and we created a world around him based on what he reported happening, we created a script that maybe exaggerated a little bit. It wasn't about creating a perfect re-enactment of what happened it was more fun to see the experiment having the real guy re-enact something he experienced and sometimes he can't hold it together."
"It's complicated to talk about, around but its easy when you see the film. It's including the audience in all the meta layers."
TrustNordisk handles international sales.
Winter Brothers, dir Hlynur Pálmason (Denmark)
Pálmason's debut feature is part of the Danish Film Institute's New Danish Screen strand, which encourages new voices in cinema.
The Iceland-born director wanted to tell a very concentrated story about two brothers working during a cold winter (it was shot in Faxe, Denmark); a feud erupts between them and another family.
"We did make a choice on peeling away [unnecessary layers]," the writer/director explained. "There's only one road in the film, one car in the film…There are mostly men in the film and one woman. It's not to make a statement about men and women, it's finding the core of this particular story and being consistent with it."
He adds, "I wanted a feeling of turmoil through the whole film, like something is boiling. It's also a very physical film."
No sales company attached yet.