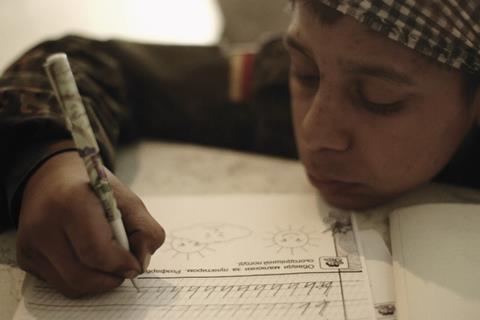 Copenhagen International Documentary Film Festival (CPH:DOX) has revealed the full film programme for its 2022 edition, including a focus on Russia and Ukraine.
Three films that consider one or both of Russia and the Ukraine will compete for the main Dox:Award competition of the festival, which will return as an in-person event from March 23 to April 3, after two years impacted by the pandemic.
Scroll down for the full list of Dox:Award titles
The films are Antoine Cattin's Swiss title Holidays, about Russia's large number of national holidays; Daniel Roher's US doc Navalny, about Russian opposition leader Alexei Navalny; and Olha Zhurba's Ukraine-Denmark-Netherlands co-production Outside, about a 13-year-old boy who became the poster boy of the Ukrainian revolution, but now finds himself back on the streets as the current conflict looms.
Holidays and Outside will received their world premieres at CPH:DOX, while Navalny has its international launch after a Sundance debut, where it won the US documentary audience award and festival favourite award.
They are part of a 12-strong Dox:Award competition, which includes six world premieres, five international premieres and one European premiere.
"Right now, our thoughts are first and foremost with the people in Ukraine, a sovereign European state unlawfully invaded by an autocratic regime," said Niklas Engstrom, artistic director of CPH:DOX. "In Kyiv, the great festival Docudays UA was supposed to happen around the same time as CPH:DOX. That is no longer possible.
"In that perspective, it feels like an incredible privilege to be able to gather the international documentary community as well as the audience in Denmark around a cultural manifestation like CPH:DOX."
"A documentary film festival is not only a celebration of cinema, it is also an opportunity to critically reflect on reality, to engage in democratic dialogue and to discuss how our views of the world have consequences - sometimes fatal consequences."
Competition sections
CPH:DOX has five returning competitive sections, comprising 59 titles that include 39 world premieres, 16 international premieres and four European premieres.
The New:Vision award competition has 16 films across shorts and features, including 11 world premieres, three international premieres and two European premieres.
Titles in the section include the world premiere of Stinking Dawn from Liam Gillick and Austrian art collective Gelatin: a social experiment-turned-musical performed at Vienna's Kunsthalle venue.
The F:Act Award strand hosts 10 films, of which six are world premieres. Among the six are Rules Of War by Dutch director Guido Hendrikx, who competed in the main competition last year with A Man With A Camera.
Rules Of War follows the clash of views between a Red Cross delegate and a group of hardcore South Sudanese soldiers.
Among the 12 films competing for the Nordic:Dox Award is Marie Liden's UK title Electric Malady, about a 40-year-old man living in a homemade shack in the Swedish wildnerness, who has a mysterious allergy to electronics. It is one of nine world premieres in the section.
Finally, the Next:Wave Award consists of 10 films, seven of which are world premieres; including Nikolay Stefanov's Bulgarian title No Place For You In Our Town, about the bleak life of hardcore football hooligans in a dilapidated mining town.
The CPH:DOX 2022 competition programme will explore three thematic strands: art, science and society. Each strand will have a dedicated pop-up cinema around Copenhagen where screenings will be accompanied by debates, talks, concerts and performances.
The full programme including non-competitive sections consists of more than 200 films, 76 of which are world premieres.
In addition to the main festival, a selection of films will be made available for streaming in Denmark from April 1-10 through the CPH:DOX site.
Science, Music programmes
Announced last week, the CPH:DOX dedicated Science and Sound & Vision sections run parallel to the themes in the competitive strands.
Among the 15 films in the former section are the world premiere of Esther Elmholt's Danish feature After Nature, in which four prominent Danish scientists and an artists struggle to understand how humanity's pursuit of wealth might lead to an ecological collapse.
Also premiering is Steffen Krones' German feature The North Drift, in which a message in a bottle from Dresden brings news of incredible ocean currents and plastic debris in the world's vast floating ecosystems.
The Sound & Vision programme of music-related titles features 18 documentaries.
Artists in the selection include Leonard Cohen, through Dan Geller and Dayna Goldfine's US doc Hallelujah: Leonard Cohen, A Journey, A Song, looking into the making of the legendary titular song.
Sabaah Folayan's Look At Me!, also from the US, is a portrait of US rapper XXXTentacion, taking in his raw talent, violence and mental health difficulties before his untimely death aged 20. It will first screen at SXSW.
Dylan Southern and Will Lovelace's UK title Meet Me In The Bathroom looks at the resurrection of rock 'n' roll on Manhattan's Lower East Side in the early 2000s, through bands such as The Strokes, the Yeah Yeah Yeahs, LCD Soundsystem, Interpol and TV On The Radio.
CPH:DOX 2022 Dox:Award competition
*world premiere
Into The Ice (Den-Ger) dir. Lars Ostenfeld – opening film*
The Eclipse (Nor) dir. Natasa Urban*
The Fall (Den) dir. Andreas Koefoed*
Fire Of Love (Can-US) dir. Sara Dosa
Girl Gang (Switz) dir. Susanne Regina Meures*
Hide And Seek (UK-It) dir. Victoria Fiore
Holidays (Switz) dir. Antoine Cattin*
Midwives (Mya) dir. Snow Hnin Ei Hlaing
Navalny (US) dir. Daniel Roher
Outside (Ukr-Den-Neth) dir. Olha Zhurba*
They Made Us The Night (Mex) dir. Fernando Delgado
Under The Sky Shelter (Chile) dir. Diego Acosta