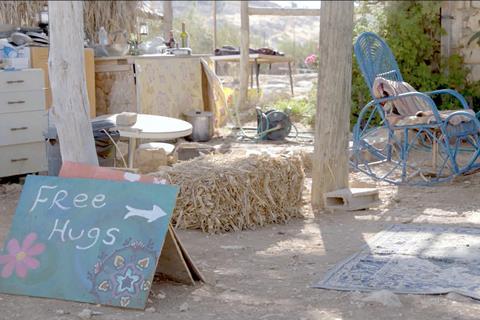 CPH:DOX will offer more than 200 films during its 15th event, which runs March 15-25.
In its five competitions (full list below), world premieres include Woman In Sink director Iris Zaki's new film Unsettling, about Jewish setllers in the West Bank; The War Show director Andreas Dalsgaard's The Great Game, about a man trying to find out if his grandfather was a spy; Emma Davie & Peter Mettler's Becoming Animal, about how our relationship with nature has evolved; and Elissa Mirzaei & Gulistan Mirzaei's Laila at the Bridge, about an Afghan woman trying to save heroin addicts in Kabul.
Highlights also include a specially curated programme by The xx; a focus on justice (films will include Pre-Crime, Recruiting for Jihad and The Congo Tribunal); and a film programme and art exhibition dedicated to social experiments (with films including Gillian Wearing's Self Made, Norman Mailer's Maidstone, and Raed Andoni's Ghost Hunting).
Another focus will be around global issues of sustainability and global development, with films selections including In the Name of your Daughter, Silas and The Green Lie.
The CPH:SCIENCE programme, in it second year, will include a VR programme focused on science and technology, as well as film screenings including The Most Unknown by Ian Cheney. As previously reported, CPH:DOX will also launch a Science Film Forum as part of CPH:FORUM.
The CPH:CONFERENCE, in partnership with Documentary Campus, will host five themed days devoted to science; technology/social change; new platforms; the safety of filmmakers; and connections between film and contemporary art.
London musical trio The xx will curate a film programme – titled I See You – that will explore themes of identity, gender, performance, youth culture and LGBTIQ issues. Selections include Francis Lee's God's Own Country; Matt Wolf's portrait of Arthur Russell, Wild Combination; Charlie Lyne's Beyond Clueless; and Gregg Araki's Nowhere.
The music programme at CPH:DOX includes artists ranging from Swedish-Syrian feminist rapper Silvana Imam to 82-year-old singer Shirley Collins, who will both appear at the festival after screening film portraits of themselves. The Choir of Young Believers, Schultz & Forever and Dan Deacon will perform at special audiovisual concerts.
The films in the five main competitive sections are (WP designates world premieres):
Dox:Award
Becoming Animal, Emma Davie & Peter Mettler (Swi-UK) (WP)
Welcome to Sodom, Christian Krönes & Florian Weigensamer (Austria) (WP)
Last Year in Utopia, Katharina Knust, Jana Magdalena Keuchel (Ger) (WP)
The Great Game, Andreas Dalsgaard (Den) (WP)
Lost Warrior, Nasib Farah & Søren Steen Jespersen (Den-Som-Ken-UK) (WP)
Extinction, Salomé Lamas, Stanislav Danylyshyn (Port) (WP)
América, Erick Stoll & Chase Whiteside (US)
Central Airport THF, Karim Aïnouz (Ger-Fr-Br)
Hale County This Morning, This Evening, RaMell Ross (US)
The Raft, Marcus Lindeen (Den-US-Ger)(WP)
Bisbee '17, Robert Greene (US)
Giants and the Morning After, Alexander Rynéus, Malla Grapengiesser, Per Bifrost (Swe-Fin) (WP)
F:ACT Award
Laila at the Bridge, Elissa Mirzaei, Gulistan Mirzaei (Can) (WP)
Weapon of Choice, Fritz Ofner, Eva Hausberger (Austria)
Alt-Right, Adam Bhala Lough (US)
Exit, Karen Winther (Nor) (WP)
False Confessions, Katrine Philp (Den-Ger) (WP)
The China Hustle, Jed Rothstein (US)
Our New President, Maxim Pozdorovkin (US-Rus)
A Woman Without a Name, Farzad Khoshdast (Iran) (WP)
A Mother Brings Her Son To Be Shot, Sinéad O'Shea (Ire-UK)
Kailash, Derek Doneenn (US)
New: Vision Award
Saturday, Camille Henrot (Fr) (WP)
Black Mother, Khalik Allah (Jam-US)
The End of Fear, Barbara Visser (Neth)
Possessed, Rob Schröder, Vinca Kruk, Daniel van der Velden (Neth)
Wild Relatives, Jumana Manna (Leb-Ger)
Slow Graffiti, Alex Da Corte (US)
Who Is Afraid of Ideology?, Marwa Arsanios (Leb) (WP)
Translations, Tinne Zenner (Green-Can-Den) (WP)
All Voices are Mine, Basir Mahmood (Pak) (WP)
Word for Forest, Pia Rönicke (Den-Mex) (WP)
Cops are Actors, Tova Mozard (Swe)
The Disappeared, Gilad Baram & Adam Kaplan (Ger-Isr)
Next:Wave Award
Unsettling, Iris Zaki (UK-Isr) (WP)
Beautiful Things, Giorgio Ferrero (It)
Minding the Gap, Bing Liu (US)
What Remains, Humberto Giancristofaro (Bra)
A Moon Made of Iron, Francisco Rodriguez (Chile-Fr) (WP)
DOEL, Frederik Sølvberg (Den-Bel) (WP)
Entrance to the End, Maria von Hausswolff, Anne Gry Friis Kristensen (Den-Swe) (WP)
Harmony, Frederick Paxton, World Premiere (UK) (WP)
Independent Boy, Vincent Boy Kars (Neth)
Minding the Gap, Bing Liu (US)
Tarpaulins, Lisa Truttmann (Austria-US)
Conventional Sins, Anat Zuria, Shira-Clara Winther (Isr)
What Remains, Humberto Giancristorafo (Bra) (WP)
Beautiful Things, Giorgio Ferrero (It)
Little Pyongyang, Roxy Rezvany (UK) (WP)
NORDIC:DOX
Lykkelænder, Lasse Lau (Den-Green) (WP)
The Punk Voyage, Jukka Kärkkäinen, J-P Passi (Fin-Den-Nor-Swe)
Bad circumstances, Max Kestner (Den) (WP)
The night we fell, Cille Hannibal (Den) (WP)
One Table Two Elephants, Henrik Ernstson, Jacob von Heland, Henrik Ernstson (Swe-SA) (WP)
The Night, Steffan Strandberg (Nor)
A Good Week for Democracy, Cecilia Björk (Swe)
Waiting for Barcelona, Juho-Pekka Tanskanen (Fin) (WP)
Eastern Memories, Niklas Kullström, Martti Kaartinen (Fin)
Maj Doris, Jon Blåhed (Swe)
More information about all films and industry activities can be found HERE.