Speakers at Sheffield panel discuss boosting inclusivity in creative industries.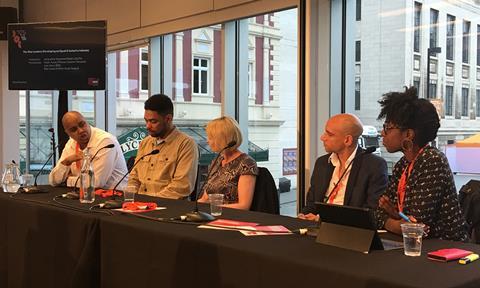 A panel of broadcasters, filmmakers and other industry experts debated the need for fresh thinking on diversity at Sheffield Doc/Fest.
Speaking on the New Leaders panel were Fraser Ayre (TriForce Creative Network), Lyle Ashun (BBC), Bob Clarke (Mama Youth Project), Cat Lewis (Nine Lives) and Jacqueline Shepherd (What's Up TV).
Clarke, founder and CEO of media training organisation Mama Youth Project, said that words such as 'diversity' are patronising, and that it's time people of all ages and backgrounds take action and create their own content.
"I don't want to be sitting here in ten years talking about the same thing," said Clarke.
He used Mama Youth Project and his television show What's Up TV as examples of "tangible outcomes" where young people from under-represented backgrounds are given media training and employment opportunities.
27-year-old Ashun, a researcher at BBC, agreed, saying that the BBC were looking for new leaders - film-makers and writers that would bring new content to them. He suggested exploring areas such as south and east London, where communities are hungry for content they can relate to.
Both Ayre and Lewis said it was time for broadcasters to open their doors to new independent production companies, and to stop giving jobs "to their mates".
"Inclusion has to be taken seriously – some channels will say they worked with 'x amount' of production companies last year. That can mean anything - it doesn't mean they gave new production companies a substantial amount of work," said Lewis.
Quotas
She suggested enforcing quotas - for both talent and independent production companies - but Ayre had a different point of view, saying quotas have been in place for years, and that organisations simply override them.
"We have been waiting and waiting for change. Funding bodies continue to hand over the money, even if broadcasters don't adhere to these quotas," insisted Ayre, who agreed that it was time for new leaders to create new, engaging content.
"Just as the broadcasters chased the YouTubers, they will chase the new leaders who are willing to create interesting content for different audiences."
Riz Ahmed's diversity talk with Parliament last March, as part of Channel 4's annual diversity lecture, was cited as impactful, as was Nine Lives and Avanti Media's win over BBC in producing long-time religious programme Songs of Praise via a competitive tender system.
The new scheme is a result of the government mandating that BBC put its programmes out to tender over the next few years.
"Putting a pitch out to tender required a lot of time, but it also made room for new talent and innovative ideas," said Ayre.