When she joined Creative Scotland as Director, Film And Media, last summer, Natalie Usher already had an intimate involvement with several of the films that Creative Scotland was backing.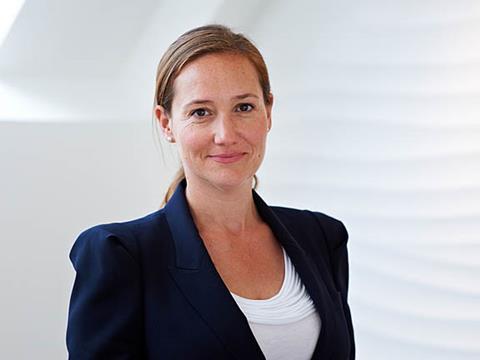 As a senior film lawyer in the Film & TV Group at Lee & Thompson, Usher had been working on both the opening and closing films at this year's Edinburgh International Film Festival: Robert Carlyle's The Legend Of Barney Thomson and Scott Graham's Iona.
"For me, this is personally a very interesting and exciting festival because a number of films I worked on as a lawyer, Creative Scotland also invested in and now they are here."
Usher has come into her job at Creative Scotland at a time when the Scottish film industry looks set for a major resurgence.
Plans for a large scale Scottish studio are edging slow but surely forward. Meanwhile, at the Scottish Film Summit during EIFF earlier this week, Scottish culture secretary Fiona Hyslop confirmed she and her partners were working "to deliver additional funding for production" in Scotland, including "increased incentives for film and television which at least match the incentives available in other countries".
"What we have been saying at Creative Scotland is that we need additional funding to attract productions looking for incentives and the best place to film," says Usher.
"Everyone in the UK has the film tax credit or high-end TV tax credit but if a nation has an additional pot of funding that makes it stand out from the rest - plus Scotland has fantastic crews and amazing locations - you can create a package that is very compelling."
This is an argument that appears to be winning over the Scottish government. The hope now is that a new, additional "production growth fund" will soon be established with Holyrood support.
Scotland may have missed out on Game Of Thrones but Outlander is back for a new series and has taken up residence at Cumbernauld's Wardpark Studios.
Usher came into the entertainment business first as a receptionist at a TV distribution company. "David Puttnam used to come in," she remembers. "I was just very excited to get into the film and television sector." Eventually, she was taken on as a trainee at law firm SJ Berwin.
She went on to work as head of business affairs at Gullane Entertainment, Senior Counsel at HIT Entertainment and she also spent several years as legal advisor to the UK Film Council's New Cinema Fund, working with Fund head Paul Trijbits.
She acknowledges that the legal work on UK films can be "cumbersome." Even on relatively modestly budgeted British films, there are likely to be dozens or even hundreds of legal documents. "That's the way it is," she says. "We are always as lawyers striving to make things as simple as possible."
The experience as a film lawyer has given Usher an understanding of "the nuts and bolts" of film financing and production. Although she had spent most of her career in London, Usher has a Scottish husband and had represented many Scottish producers. "I was already aware of the landscape (of the Scottish film industry) and a lot of the people involved."
It is eight months now since Creative Scotland published its "Film Strategy 2014-2017" and Usher believes some of its goals are already being achieved.
"Usher points to the "re-focussing" of the film team at Creative Scotland. The National Locations Service, The Creative Europe Media Desk and Culture Desk have always been part of Creative Scotland, but, now, under the new structure, they are part of the Screen team whereas before they sat separately.
Usher and her team are putting emphasis on "internationalisation" and on encouraging Scottish producers to coproduce with their European partners.
Usher and her team have already announced £3m in new funding: the £1m Screen Skills Fund Scotland and the £2m UK Tax Credit Advance Facility.
"That is a very important part of the picture, which is about developing fantastic projects and having the skills in terms of talent and crew to facilitate that."
As for the new Scottish studio, Usher explains that a private sector proposal has been received through Scottish Enterprise, "who is leading on that. It is a commercial negotiation. We can't dictate the pace at which it is moving. However, we are working incredibly hard to achieve a studio facility for Scotland."
There are currently around six locally made Scottish features produced each year. The aim now is to ramp up that figure. "In the Film Strategy, we said very clearly that we need tobe making more films," Usher states.
"In order to make more films, we need to develop the talent pool, the crews, and you need to have facilities and develop great projects."
Creative Scotland oversees a £4m National Lottery Film Fund that goes toward single project development, slate development and production funding and to providing support for Scottish-based filmmakers to attend markets and festivals.
Creative Scotland also awards core, three year funding to the Glasgow Film Theatre, The Centre For The Moving Image (which oversees the Edinburgh Film Festival, the Filmhouse in Edinburgh and the Belmont in Aberdeen), Film Hub Scotland and Regional Screen Scotland.
Usher was in upbeat mood following the opening of this year's Edinburgh Film Festival. "There is a fantastic feeling about that. We all feel positive about the future."
Creative Scotland supported several films in this year's festival. It provided funding support of £500,000 for The Legend Of Barney Thomson, £300,000 for Iona and also invested in various other titles in the EIFF Programme, among them Colin Kennedy's Swung (produced by Sigma Films) which received £320,000 and David Street's feature doc, Battle Mountain: Graeme Obree's Story.