EXCLUSIVE: Edgy French comedy stars Felix Moati and French singer-turned-actress Camélia Jordana.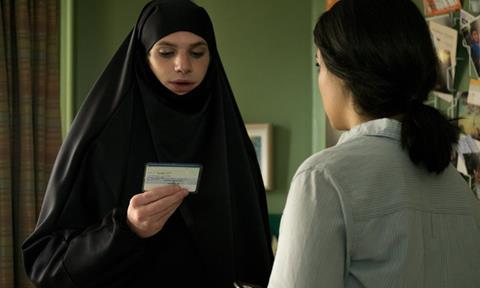 Films Distribution is reporting brisk business on market title Some Like It Veiled, a French-language cross-dressing burqa comedy with a contemporary spin.
The debut feature of Iranian-French filmmaker Sou Abadi, it stars Felix Moati and French singer-turned-actress Camélia Jordana as young French couple Armand and Leila whose relationship is threatened when her older brother Mahmoud returns from a trip to Yemen.
He now disapproves of Leila's lifestyle and confines her to the home. To get around the restrictions, Armand dons a burqa and adopts the persona of Shéhérazade to keep seeing Leila. He plays the role so convincingly that Mahmoud starts falling for him too.
Film Distribution has sealed deals to Spain (Caramel Films), Greece (Feel Good), Austria (Filmladen), Italy (I Wonder Pictures), Germany (NSP) and Switzerland (Frenetic), and Israel (New Cinema).
"It's a classic comedy scheme in which cross-dressing is the comedy trick but in a very contemporary context," said Films Distribution co-chief Nicolas Brigaud-Robert.
"All the European countries seem to be very sensitive to the subject and to the fact you can have fun with it as well. I think it's interesting considering what is happening in Europe right now, and now we're hoping to expand it out."
The film is produced by Michael Gentile under his The Film banner with Mars Films and France 2 Cinéma on board as co-producers. Mars Films will release the film on June 28, 2017.
Cannes titles on the Films Distribution slate include L'Amant Double, BPM, The Workshop and Let The Sunshine In.