Musical drama takes place in contemporary multicultural Paris.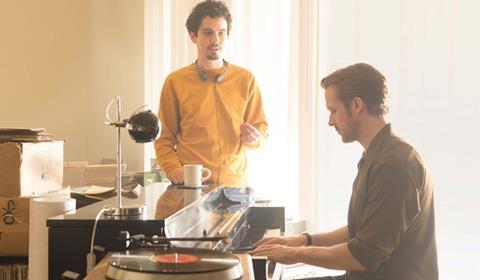 Oscar-winning La La Land director Damien Chazelle is attached to direct The Eddy.
The story takes place in a contemporary multicultural Paris that revolves around a club, its owner, the house band and the volatile city that surrounds them.
Jack Thorne, who recently wrote the play Harry Potter And The Cursed Child with J.K. Rowling, will write the project.
Grammy-winning songwriter and producer Glen Ballard, best known for co-writing Alanis Morissette's Jagged Little Pill and Michael Jackson's Man In The Mirror, and Six Feet Under showrunner Alan Poul are attached as executive producers.
Chazelle became the youngest best director Oscar winner for La La Land at the age of 32 in February, and rose to fame with Whiplash, which he wrote and directed.
Upcoming projects include a reunion with La La Land star Ryan Gosling (pictured with Chazelle) on First Man, Universal Pictures' Neil Armstrong biopic.
Thorne, a BAFTA Award-winning screenwriter and playwright, is currently writing the DC film The Sandman for Warner Bros.