Globo's first production targeted exclusively at the Latin American market will be overseen by acclaimed Argentinian director Burman [pictured].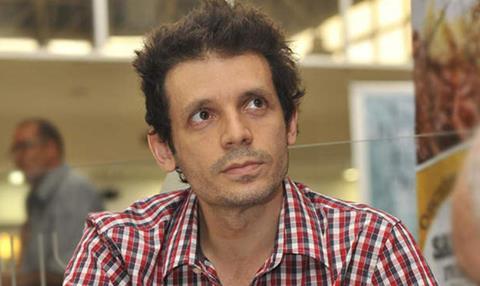 Supermax, the first original TV series from Globo targeted exclusively at the Latin American and Hispanic markets, will start shooting at the end of April.
The Spanish-language production will be sold at MIPTV in Cannes by Globo, Brazil's largest broadcast network, after debuting at Natpe.
Burman (Lost Embrace), who recently directed Berlin 2016 title The Tenth Man and co-produced San Sebastian hit Truman, will for the first time act as showrunner and director of a TV sereis on Supermax, a 10-part series set in a fictional maximum security prison, where a riot left hundreds dead 20 years ago.
The prison reopens to host a reality show, where eight participants with past criminal charges face brutal experiences in order to compete for a $2m prize. With the disappearance of the host on the first day, they are left alone to survive.
The series is part-drama, adventure and psychological thriller. "All participants come to the show with an agenda that is immediately shattered. Besides money, they want to forget their ghosts,'' director Burman told Screen.
"As they are locked in, their limitations and frustrations come to surface, revealing the worst hell of each of them,'' adds the director, whose Lost Embrace won the Berlin Silver Bear in 2004.
Supermax will be co-produced by Oficina Burman, the director's production company based in Buenos Aires. The first country to broadcast it will be Mexico, on TV station Azteca. "The Idea is to expand to several Spanish speaking countries,'' says Burman.
That is why the director selected actors from different territories, such as Spanish actor Santiago Segura (who will open doors in Spain), the Argentinean Cecilia Roth (a movie star in her country) and the Brazilian Bruno Gagliasso, who is the leading actor on the Brazilian telenovela Precious Pearl, which was the winner of a 2014 International Emmy and was broadcasted in 25 countries (including Uruguay, Argentina, Guatemala, Peru, Paraguay, El Salvador, Nicaragua etc).
According to Globo, this project is an evolution of their continued penetration into the Latin American and Hispanic markets thanks to their telenovelas. The series is the international version of the Brazilian, Portugese-language Supermax, which will debut in the second half of this year in Brazil.
The partnership between Globo and Burman began three years ago, when the director was invited to give a lecture at Projac, the network's main production studios based in Rio de Janeiro.
"When I step in that huge storytelling machine, I felt like a child visiting Disneyland for the first time," says Burman.
The director said he hadn't directed TV to date because he was concerned the author's creative potential would be crushed along the way.
"But my experience with Supermax has been the opposite. The idea is like an Olympic flame whose power has been spread across every department, gaining strength," he adds.