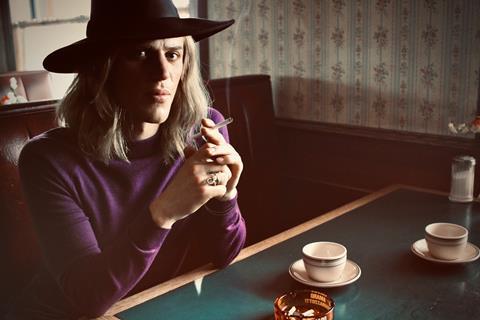 David Bowie drama Stardust is to get a digital release after plans for a world premiere at Tribeca Film Festival this month were scuppered when the coronavirus pandemic forced the New York event to postpone.
London-based production, finance and sales company Film Constellation has announced the film will launch on its bespoke platform dedicated to distributors and select press, which has already hosted a screening for industry of Sundance horror film Relic.
Film Constellation CEO Fabien Westerhoff is in talks with distributors and programers over potential public audience festival premieres for Stardust for autumn.
Johnny Flynn plays the lead as a 24-year-old Bowie embarks on a tour of the US that would turn Bowie's alter ego Ziggy Stardust into one of modern culture's most striking cultural icons.
Marc Maron and Jena Malone round out the key cast. Gabriel Range directed from a screenplay by Christopher Bell and Range. The film was produced by Paul Van Carter, Nick Taussig and Matt Code. Executive producers are Westerhoff, Christopher Figg, and Robert Whitehouse. The film from UK-based Salon Pictures is a co-production with Wildling Pictures in Canada and was financed by Film Constellation and Piccadilly Pictures.
"Stardust is a highly-anticipated film in the marketplace," said Westerhoff. "We've reached out to our buyers and are excited to offer them this unique opportunity to engage with Gabriel's film in a timely, safe and controlled environment. Our first digital market premiere has been an overwhelming experiment, with several hundred buyers tuning in simultaneously within 24 hours across five continents. We can't wait to take this novel buyer experience to the next level with a live component to it."