Rani Massalha and Marie Legrand's new French production outfit Films Du Tambour attended the Doha Film Institute's inaugural Qumra event this week to talk about the company's ambitious slate of international co-productions.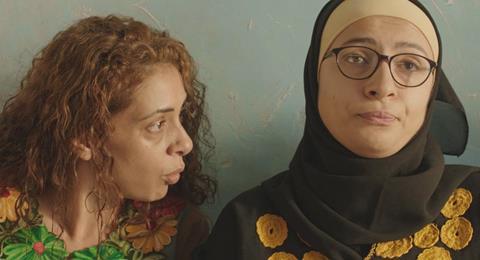 The first feature film under the Films Du Tambour banner, Arab & Tarzan Abunasser's Dégradé, has Doha Film Institute backing and was selected as one of Qumra's 29 projects to get special mentoring this week.
The producers – Massalha and Legrand alongside Rashid Abdehamed of Made In Palestine – showed 15 minutes of Dégradé to film festival experts at Qumra.
The 27-year-old brothers did not attend because they are in the final stages of post-production in Paris. They are expected to premiere the film at a major festival later this year; the brothers' short Condom Lead premiered in Competition at Cannes 2013.
Elle Driver handles sales on Dégradé, which has been one of the most buzzed-about titles at Qumra. Le Pacte is on board for French distribution.
Legrand said of the twin brothers: "They have another way of telling stories in Palestine. This will be the new generation."
Massalha described Dégradé as a drama with black humour. The story is set in a Gaza hair salon, where 12 women are stuck inside as Hamas police forces attack a gangland family who has stolen a lion from Gaza's only zoo. (The case of the lion is based on a real case from 2007, the hair salon is invented)
"It's a precious testimony of everyday life of women in Palestine," said Legrand.
This film, added Massalha, is "a local story for the international market," something Films Du Tambour wants to make its calling card.
Dégradé has a total budget of $915,000 (€850,000), with $75,000 coming from the DFI.
Massalha said the DFI funding was crucial for many reasons – "it would be terrible if the film was only financed from Europe," he said. There is also private equity funding from Palestine that Abdehamed arranged.
Other partners on board are Lebanon's About Films, France's Arte/Cofinova, Borsalino, Breizh Film Fund, Brittany Region, Consulate General of France, Full House, Mille et Une Films, and The Netherlands' Hubert Bals Fund.
Further afield
Massalha, a 33 year-old filmmaker who directed 2013 festival hit Giraffada, and 28 year-old Legrand, who previously worked at French production company Full House and line produced Giraffada, formed Paris-based Films Du Tambour in 2014.
Legrand explained: "We're unique because we're young, and we're looking at international cinema. Most producers of our age are doing more French cinema. We bring an alternative to our generation."
She added: "It's also a question of personalities. We have a taste for experiences, for challenges."
Massalha added: "We're using both our experiences to build the knowledge you need to set up an international production…but we are not completely closed to French films, every film has to be a blow for the heart."
After the Gaza-set, Amman, Jordan-shot Dégradé, the outfit now has plans to shoot films in Thailand and Nepal, and also to return to Palestine in 2016 for Massalha's next directorial effort, Elvis of Nazareth. He also has an Egyptian project, Cairo's Pigs.
In April, they will shoot a Nepal-set short by Bibushan Basnet and Pooja Gurun, with whom they are also developing feature Nation Heartbeat.
And in September, the company will shoot a short in France by Zouhair Chebbale, with whom they are also developing French-Moroccan feature Three Women.
As Legrand said: "When as a producer you can identify a real talent with original vision, then you can find partners."