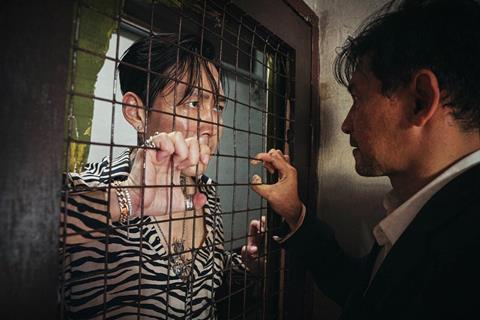 South Korean box office rose 68% at the weekend, thanks to the arrival of strong local title Deliver Us From Evil, directed by Hong Won-Chan (2015's Office).
CJ Entertainment's action thriller grossed a handy $10.6m for the August 7-9 period, and $15m since its August 5 opening date. Admissions were 1.39m for the weekend period, and just over 2.03m since Wednesday – 78% of the total market. The film reunites Hwang Jung-min and Lee Jung-jae who appeared together in 2013's New World.
Deliver Us From Evil's numbers are even higher than was achieved a few weeks ago by Train To Busan sequel Peninsula, which debuted with a five-day $13.2m in South Korea. Peninsula has grossed $27.1m in its home market since its July 15 release, and will fall short of Train To Busan's sensational South Korean haul of $80.5m – the top performer of 2016 in the territory.
Deliver Us From Evil dethroned Steel Rain 2 from the chart summit, sliding a hefty 70% for second-weekend takings of $1.49m, and a total after 12 days of $10.7m, and 1.54m admissions. The geopolitical action drama will likely fall short of the original Steel Rain's $32.8m total in 2017. Despite South Korea's relatively low confirmed Covid-19 cases (under 15,000) and deaths (305), restrictions relating to the pandemic have impacted moviegoing.
'Unhinged' is top in six markets
Russell Crowe road-rage thriller Unhinged opened number one in both of its two new markets at the weekend – Russia and Austria – and retained the top spot in Australia, UK, Switzerland and West Indies.
The film from director Derrick Borte debuted in Russia with $124,000 and 26,200 admissions, representing a market share of 35% – the biggest numbers in the market since cinemas started reopening on July 15. In Austria, Unhinged debuted with $80,400 and 12,600 admissions, which was more than double the title in second place.
The film's second session in Australia saw a strong hold, declining by just 12%. Second-weekend takings of $502,000 push the total there to $1.24m. In the UK, where hot weather and a lack of strong new releases saw the market contract, Unhinged fell by 36% from its opening session. Total after 10 days is $575,000.
Unhinged has now been released in 22 territories, grossing $1.42m at the weekend for a worldwide total of $5.41m. France, Italy, Spain, Latin America, South Korea, Middle East and Japan are amongst territories yet to release. Next for the film – from Solstice Studios and Ingenious Media – are Thailand on August 12 and Canada on August 14.
Gerard Butler tops French box office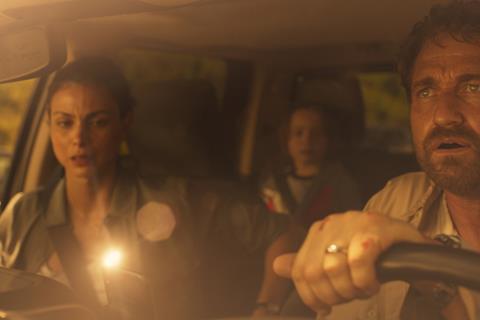 While local titles have dominated the French box office since the country's cinemas reopened in late June, the weekend saw the first chart-topper for a US live-action film in this period. STX action thriller Greenland, starring Gerard Butler, has opened in first place for the August 5-9 five-day weekend, with 148,000 admissions and a market share above 20%.
Since French cinemas reopened, in successive weeks the top five titles have shown a heavy skew towards French films, with the likes of La Bonne Epouse (aka How To Be A Good Wife), Tout Simplement Noir, Divorce Club and T'as Pecho? – all chart toppers for at least one week – dominating this period. Warner Bros family animation Scoob! (released in France as Scooby!) has been the notable exception to the domination of local product, and is currently in sixth place in its fifth week of release.
Greenland's haul of 148,000 admissions compares with 77,000 ticket purchases for teen comedy T'as Pecho? when it topped the French chart a week ago. It's the highest single-frame admissions since Divorce Club topped the chart in mid-July with 204,000 tickets sold.
French comedy Les Blagues De Toto entered the chart in second place, with 139,000 admissions; and family animation Bigfoot Family is in third place with 61,500 admits. T'as Pecho? and Divorce Club round out the top five.
This coming weekend, Greenland opens in 11 new markets: Sweden, Denmark, Finland, Norway, French-speaking Switzerland, Estonia, Latvia, Lithuania, Taiwan, Singapore and Vietnam. Butler reteams with Angel Has Fallen director Ric Roman Waugh in the thriller, in which a family fights for survival as a comet races to Earth.
'Father There Is Only One 2' stays top in Spain
Spanish comedy sequel Father There Is Only One 2 (Padre No Hay Mas Que Uno 2) once again topped the Spanish box office, declining a relatively slim 27% for a gross of $1.2m in its second session. After 12 days, the comedy has grossed $5.5m, which is on par with the original film released a year ago.
Santiago Segura directs, co-writes and stars in the film about a father parenting five rambunctious children, this time with a visit from his mother-in-law. The original Father There Is Only One grossed $16m last year.