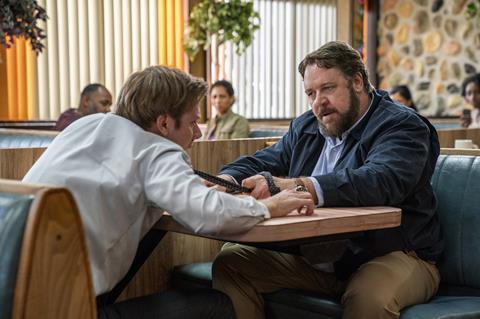 | | | | | |
| --- | --- | --- | --- | --- |
| Rank | Film (Distributor) | Three-day gross (Jul 31-Aug 2) | Total gross to date | Week |
| 1 | Unhinged (Altitude) | £115,188 | £440,894 | 2 |
| 2 | Onward (Disney) | £45,000 | £5.8m | 9 |
| 3 | 100% Wolf (Vertigo) | £41,386 | £127,457 | 2 |
| 4 | An American Pickle (Warner Bros) | £27,255 | £27,255 | 1 |
| 5 | Jurassic Park (2020 reissue - Universal) | £26,992 | £117,484 | 2 |
GBP to USD conversion rate: 1.31
Altitude's Unhinged topped the UK box office for a second successive weekend, with takings falling on a weekend of hot weather and no new blockbuster titles.
With several sites still to report, the Russell Crowe-led thriller grossed £115,188 from 275 locations for a £419 average. It has now taken £440,894 after two weekends and is the highest-grossing new title released since cinemas began to reopen in July.
The total amount taken by the top five titles was down 20.3% percent, from £321,106 to £255,821.
Disney's Onward held second place, falling back 25% with a £45,000 gross taking it to £5.8m total.
Originally released two weeks prior to lockdown, the animated feature has been in the top two titles on every weekend since the reopening.
Vertigo Releasing's 100% Wolf took £41,386 on its second weekend, an increase of 24.9%, and is now up to £127,457 after two sessions. Horror The Vigil added £15,491 on its second session and has £55,437.
Released by Warner Bros and starring Seth Rogen, An American Pickle was the second new opener to breach the top five, grossing £27,255 from 163 locations for a £167 average.
A 2020 reissue of Universal's Steven Spielberg classic Jurassic Park took fifth place, adding £26,992 to reach £117,484.
From the holdovers, Modern Films' The Traitor is up to £34,219; while Picturehouse Entertainment's Proxima put on £7,359 to reach £57,977.
Curzon's Make Up added £1226 and has £11,594 from two weekends.
Progress has been slow but steady for UK and Ireland cinemas since reopening, with takings having increased on the four consecutive weekends prior to this one. Five new titles are currently scheduled for release next weekend; with the first blockbuster set to be Christopher Nolan's thrice-delayed Tenet through Warner Bros on August 26.
Further results to come.