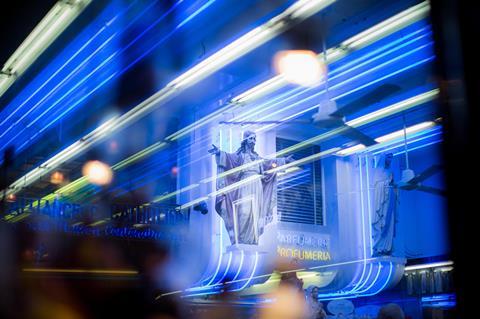 French filmmaker Thierry Demaizière has revealed fresh details about his joint work Lourdes, exploring the motivations of the millions of sick pilgrims and volunteers who flock to the French famous shrine town, which Upside Distribution launches at the EFM.
Mars Film has acquired French rights to the film, which marks Demaizière's latest collaboration with Alban Teurlai after Reset, about Benjamin Millepied's ill-fated tenure of the Paris Opera Ballet, and Rocco, an authorised portrait of legendary Italian porn star Rocco Siffredi.
"It came as a bit of a surprise to find ourselves making this film," Demaizière said. "When we embarked on this film we had just come out of a documentary about the pornography world."
He said part of the attraction to the subject was the discovery that no other feature documentary had been made about Lourdes even though there are close to six million visitors each year.
"It's not a film about religion but rather about what motivates people to visit Lourdes. Through a series of portraits we tried to understand what is going on between the six pilgrims and the volunteers who accompany them."
The filmmakers have followed a wide cross-section of people ranging from members of the travelling community to a group of soldiers visiting the shrine, from cancer sufferers to sick children and their parents.
"We wanted to find out what were they hoping for as they arrived there often at a point where there was no other hope left," he said.
Demaizière and Teurlai are producing the work through their Falabracks company with support of France 3 Cinéma and the participation of Canal+.
We are very proud to keep on working with Thierry and Alban," said Johan De Faria, head of acquisition at Upside Distribution, which previously handled sales on Reset. "They are considered among the best documentary directors at the moment. We love their independence and dedication to their art,"
Other upcoming titles on Paris-based Upside Distribution's EFM slate include Luiz Bo Luiz Bolognesi's second film Ex-Shaman which premieres in Berlinale's Panorama section.
It follows a shaman who is being forced to give up his ancestral practices by Christian evangelists.
"Socially engaged cinema is in Upside DNA and we're particularly proud to support this film," De Faria said.
The company will also market premiere conman portrait Scam(s) by Olivier Megaton, better known as the director of high-octane action pictures like Transporter 3.
It is also working on two first feature documentaries: Maryam Goormaghtigh's Before Summer Ends, about three Iranian expats living in Paris, and Out by Denis Parrot, described by Upside as the first documentary to address LGBTQ and coming-out stories exclusively through social media footage.
The film, which is currently in post-production, is produced by Dryades Films and Upside Films.