EXCLUSIVE: Stars of Jacques Audiard's Cannes winner to lead new feature, which is set to shoot in India later this year.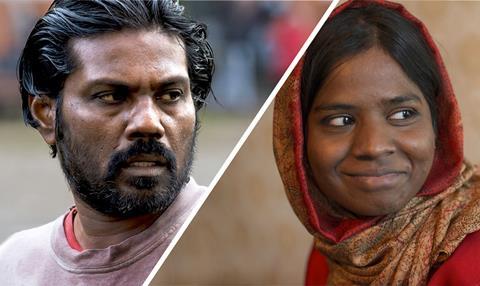 The two stars of Jacques Audiard's Dheepan are to reunite on screen for a Tamil-language feature, written and directed by Arun Karthick.
Antonythasan Jesuthasan and Kalieaswari Srinivasan revealed their involvement in the upcoming film to ScreenDaily at the Sarajevo Film Festival, where Palme d'Or winner Dheepan played to a packed audience at the city's Open Air cinema on Saturday (Aug 15).
The film, titled Aasai Mugam (literal translation Dearest Face), centres on two brothers at war over their ancestral farmland at the foothills of the Western Ghats mountain range in southern India.
The story is set against the backdrop of brick manufacturers, who pay handsomely to lease agricultural land to mine sand, and cause rifts between families consumed by greed and jealousy.
Jesuthasan, who plays the title character in Dheepan and is also known by pen name Shobasakthi, said Aasai Mugam would be filmed over three months from November in the Coimbatore region of southern India.
He will play one of the brothers, Babu, who returns to his village after more than 20 years only to be refused a share of his ancestral home by his bother Suresh.
Babu becomes involves in cockfighting and finds an ally in Kali, an independent woman who owns a farm adjacent to his land, who will be played by Srinivasan.
Karthick said the story had been inspired by "characters I grew up observing in my village".
"The ascent of soil mining for brick manufacturing brought wrath upon many families as large sums of money were offered to modest farming families to illegally mine sand from their agricultural lands. Money, quite the devil it is, bred contempt and greed in many families."
Theatre actress Srinivasan is a long-time friend of Karthick, while the director knew of Jesuthasan through a small part that he played in 2011's Sengadal. "He had a real presence in that film, despite playing a small role, and I wrote the story with his face in my mind," said the director.
Aasai Mugam is in pre-production, produced by S R Prabhu's Dream Warrior Pictures. Prabhu is known for his work with major Indian company Studio Green, producer of box office hit Baahubali, but is looking to establish his own banner.
Karthick will submit the film to co-production market Film Bazaar in Goa this November, where he last year won the gap financing award for his first feature The Strange Case of Shiva (Sivapuranam), which is currently being submitted for festivals.