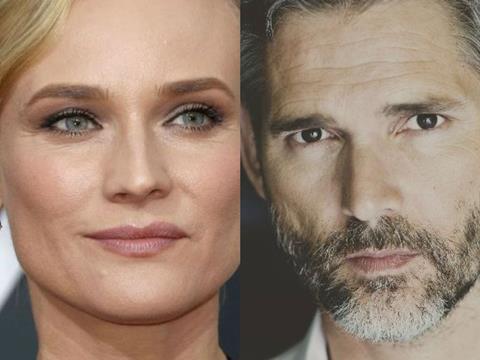 Diane Kruger and her Troy co-star Eric Bana are in negotiations to headline spy thriller The Operative, a red-hot package that Bloom will introduce to buyers at the EFM in Berlin next week.
Israeli wunderkind Yuval Adler will make his English-language feature directorial debut and broke out with 2013 Venice Days Fedeora Award winner Bethlehem.
Teddy Schwarzman's Black Bear Pictures is financing The Operative and will serve as executive producer. The producers are Spiro Films' Eitan Mansuri, who produced Israeli sensation Foxtrot, Archer Gray's Anne Carey (20th Century Women), and Foxtrot producers Michael Weber and Viola Fügen of Match Factory.
Kruger, riding high following her Cannes best actress triumph in Fatih Akin's German drama In The Fade, which won the Golden Globe for best foreign-language film last month, stars as rogue Mossad agent Rachel, who vanishes while attending her father's funeral in London.
After she leaves a mysterious message for her handler Thomas, played by Bana, the latter is summoned by Mossad to Israel. There he attempts to retrace his associate's steps through her various undercover missions in Tehran, unsure whether she poses a threat or is herself in danger.
Adler adapted the screenplay from former Israeli spymaster and author Yiftach Reicher Atir's novel The English Teacher. Le Pacte's Jean Labadie serves as co-producer. The Israeli Film Fund and Film and Medienstiftung NRW supported the project and Endeavor Content handles US sales.
Kruger also starred in Inglorious Basterds, and National Treasure: Book of Secrets. Bana proved his thriller chops in Munich, and his credits include Chopper, Hanna, and Black Hawk Down.
Kruger is represented by UTA and Untitled Entertainment; Bana by WME and Sloane, Offer, Weber & Dern; and Adler by WME and Novo.
Bloom's sales slate includes Sam Levinson's Sundance Midnight breakout Assassination Nation, which sparked a $10m sale to NEON and AGBO; Hostiles starring Christian Bale; and AFM sensation Book Club starring Diane Keaton, Jane Fonda and Candice Bergen, which Paramount pounced on for $10m last November.