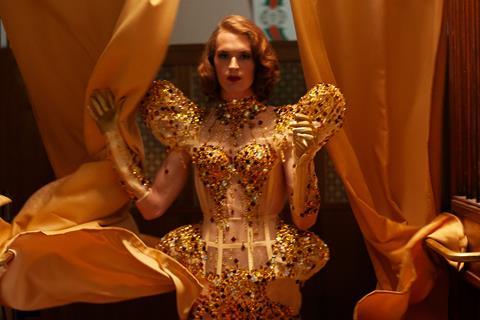 The release of LGBTQ drama Outlaw in its native Russia has been hit by a string of last-minute cancellations as a result of "irrational fear", according to its writer-director Ksenia Ratushnaya.
A censored version of the award-winning film, which features frank depictions of sex, violence and transgender love in Soviet-era Russia, received clearance from the Ministry of Culture and was set for release by HHG Film Company.
But while a niche title like Outlaw would normally screen in around 50 theatres, it was only shown in 10 theatres when it opened on Thursday, October 29, taking 185,000 rubles ($2,400) over the weekend.
"It's all about irrational fear," Ratushnaya told Screen. "There's so much fear in the Russian cinema community that someone, some faceless person in a grey jacket, will punish them for screening an LGBTQ film."
This is despite cuts that were made to the film in order to secure an official distribution certificate.
"We were told that everything in the film was OK, according to Russian law, except for a little fragment in the orgy scene," recalls Ratushnaya of the film's opening, which included an Orthodox priest.
But even a censored version of the film could not secure a premiere screening, with major venues committing but then cancelling the event, often with little notice.
"First we talked with Oktyabr, the most popular premiere theatre in Moscow," said Ratushnaya. "They were happy to premiere Outlaw but a few days later they had to cancel because someone told the curator to do so.
"We chose another place for our premiere – the President Hotel – and transferred a sufficient amount of money to rent the theatre, inviting 300 guests. But four days before the premiere, they called to say there were 'technical difficulties' and just transferred our money back without any explanation."
Further disappointment followed from Moscow's Tretyakov Gallery, which had planned a special screening a day before the theatrical release but cancelled following "a call from above", according to Ratushnaya.
"It seems bizarre to me that one side of the authorities will issue a certificate for the film to be seen while another is seemingly doing everything it can to stop the film's distribution," she added.
"Any movie which deals with sexual subjects – especially LGBT subjects – gets a lot of lashing from conservative circles in Russia," said Vladislav Pasternak, CEO at distributor HHG. "I assume that someone sees Outlaw as being a very powerful statement."
The film tells the story of a gay teenage boy and a rebellious young woman who compete for the attention of the most popular boy in school. It also explores the relationship of a Soviet general and transgender dancer in the 1980s, who risk everything to be together.
Produced by Ratushnaya's Irony Production and Chibis Production, Outlaw debuted at the Tallinn Black Nights Film Festival last November and received its US premiere at the Santa Barbara Film Festival in January.
Spirit of Fire controversy
It went on to screen in competition at Siberia's Spirit of Fire film festival in March, winning best Russian debut, cinematography and music.
But it was here that the controversy around Outlaw began and it was only several months later that festival programmer Boris Nelepo broke his silence.
Writing on Facebook on October 23, Nelepo said: "Any curator working in Russia knows from experience what censorship and self-censorship are. However, I can't remember anything comparable in my life to the pressure over the screening of Outlaw."
Given the subject matter, Nelepo personally checked the passports of the audience to ensure they were all aged over 18 and police selectively checked viewers without finding any violations. But later, complaints were received regarding the screening that "Muscovites are taking debauchery to pure Siberian land".
Over the following months, the festival received a barrage of questions from investigators from the Prosecutor-General's Office, "which is really very scary, because you are always wrong," said Nelepo.
These included questions as to why the film was shown; why it was selected; why it had not been screened in Russia before or after the festival; why the festival programme was not packed in polythene; and why the programme selector did not have an education from the Russian State University of Cinematography (VGIK)?
Nelepo has now learnt that Russia's Ministry of Culture has withdrawn its financial support for the Spirit of Fire festival and threatened not to include the festival in its official register "which is an actual ban of the festival".
However, the festival programmer stands by the film. "I would show Outlaw again, knowing all the consequences," he stated. "Without talented, difficult and sometimes provocative films it is not clear why the festival is necessary."
Plans for next year's festival are already underway.