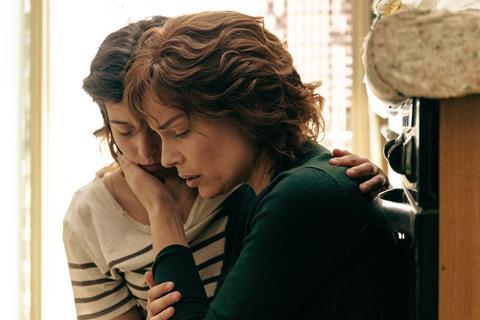 Italian crime drama The Good Mothers is among the seven titles selected for Berlinale (February 16-26) Series strand.
Scroll down for full list of titles
The Disney+ series is directed by the UK's Julian Jarrold, whose credits include Kinky Boots, Becoming Jane and Brideshead Revisted, and Italian filmmaker Elisa Amoruso. The Good Mothers is a UK-Italy co-production and follows three women trying to bring down the Italian mafia.
The first two episodes of the six-part series is one of five series world premiering at Berlinale.
These include HBO Max series Spy/Master from Adina Sădeanu and Kirsten Peters which will also screen the first two episodes. The Romanian-German co-production sees an East German spy caught between the CIA, Securitate, KGB and the Stasi.
Other world premieres are India's Roar about a police officer investigating the disappearance of several women in the neighbourhood; Denmark's Agent from actor Nikolaj Lie Kaas about a talent agent; and Norwegian satire The Architect.
Berlinale Series Market
The festival also announced the ninth edition of the Berlinale Series Market which will take place February 20-22 at Potsdamer Platz.
It sees the third edition of the Berlinale Series Market Selects label, which showcases series with high market potential. Among the 16 titles selected is Norwegian sci-fi Dome 16 by Thomas Torjussen; German crime-drama Two Sides Of The Abyss from HBO Max and Israeli thriller Traitor from the creators of HBO series Valley Of Tears.
On February 21-22, the Berlinale Co-production Market will host Co-pro Series where producers from ten series projects will meet and pitch to 420 co-producers, editors, sales agents and other series financiers.
The selected projects were chosen from 218 submissions.
Berlinale Series 2023
*world premiere
Agent* (Den) cre. Nikolaj Lie Kaas, broad. TV2 – 2/8 episodes
The Architect* (Nor), dir. Kerren Lumer-Klabbers, broad. Viaplay Group – 4/4 episodes
Bad Behaviour (Australia), dir. Corrie Chen, broad. Stan – 2/4 episodes
Roar* (Ind), cres. Reema Kagti, Zoya Akhtar - 2/8 episodes
The Good Mothers* (UK-It), dirs. Julian Jarrold, Elisa Amoruso, broad. Disney+ - 2/6 episodes
Spy/Master* (Rom-Ger), cres. Adina Sădeanu, Kirsten Peters, broad. HBO Max, Warner – 2/6 episodes
Why Try to Change Me Now (China), cre. Yu Gong, broad. iQIYI, Inc – 2/6 episodes
Berlinale Series Market 2023
1985 (Bel), cre. Willem Wallyn, broad. VRT, RTB
About Antoine (Canada), cre. Cathleen Rouleau, broad. Club illico, TVA (Quebecor)
The Ark (US-Serbia), cres. Dean Devlin, Jonathan Glassner, broad. NBCUniversal
Brown (Ind), cres. Suri Gopalan, Abheek Barua
Cuba Libre (Port), cre. Henrique Oliveira, broad. RTP
Donkerbos (S Afr), cre. Nico Scheepers, broad. Multichoice/Showmax
Out of Touch (Swe), cre. Mikael Ljung, broad. C More
Dome 16 (Nor), cre. Thomas Seeberg Torjussen, broad. NRK
Nordland 99 (Den), cre. Kasper Møller Rask, broad. DR
Pad (The Fall) (Serbia), dir. Bojan Vuletić, broad. Superstar TV
Curse Poems (Chil), cres. Paula del Fierro, Enrique Videla, Miguel Angel Rodríguez
Snow (Austria-Ger), cre. Michaela Taschek, broad. ORF, BR, NDR, ARTE
Traitor (Israel), cre. Asaph Polonsky, broad. HOT
Troll Farm (Lithuania), cres. Domantė Urmonaitė, Martynas Mendelis, Gabija Siurbytė, Ernestas Jankauskas, broad. Lithuanian National Television and Radio, TeliaPlay+
The Way Home (US-Can), cres. Marly Reed, Heather Conkie, Alexandra Clarke, broad. Hallmark Channel
Two Sides of the Abyss (Ger), cre. Kristin Derfler, broad. RTL+, Warner TV Serie, HBOmax
Berlinale Co-pro Series
The Island (UK), writ. Nick Osborne
Totonero (It) cre/writ. Emanuele Scaringi
Export Only (Rom), cre/dir. Cristina Iliescu
Decibel (Arg), cre/writ. Nicolás Britos, dir. Pablo Agüero
Earthbound (Ger), writ. Harris Goldberg
My First Family (Ger), cre/writs. Maya Zaydman and Ori Sivan, dir. Randa Chahoud
Tipping Point (Nor), writ. Brendan Foley, dir. AJ Annila
The Acid Clinic (Den), cre. Jens Dahl; writ. Jens Dahl, Dorte Warnøe Høgh and Adam August
The Chauffeur's Son (Spain), cre. Isaki Lacuesta, Isabel Campo and Cristóbal Garrido, dir. Isaki Lacuesta