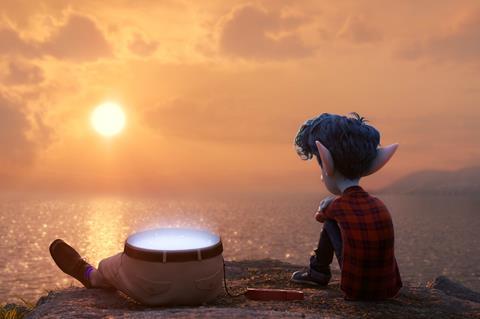 Disney and Paramount announced separately on Friday (March 20) plans to move up the digital releases of Onward and Sonic The Hedgehog, respectively, amid the coronavirus outbreak.
Pixar title Onward will be available for digital download in the US from today (March 20) and on Disney+ from April 3.
At present Disney has not announced if the film, which premiered at the Berlin Film Festival before being released in cinemas in the first week of March, will also be available on digital outside of the US. Onward opened on March 6 in North America and grossed $61.5m before theatres closed. The global theatrical tally stands at $103.1m.
Disney+ is set to launch in many international territories, including the UK, on March 24.
In a statement, director Dan Scanlon and producer Kori Rae said: "While we're looking forward to audiences enjoying our films on the big screen again soon, given the current circumstances, we are pleased to release this fun, adventurous film to digital platforms early for audiences to enjoy from the comfort of their homes."
The move follows the recent announcement by Disney that it was making Frozen 2 available on Disney+ earlier than originally intended, and was making Star Wars: The Rise Of Skywalker available in digital stores early to give housebound viewers who cannot go to theatres fresh entertainment options.
Paramount's Sonic The Hedgehog is being made available for digital purchase on March 31 and will be on 4K Ultra HD, Blu-ray, DVD and for rental on demand or disc on May 19. It has had a longer life in theatres, earning $146.1m in North America since the February 14 launch, and $306.8m worldwide.
Last week, Universal became the first major studio to break the theatrical window in reaction to cinemas closing due to the coronavirus crisis, with recent or upcoming theatrical titles Trolls World Tour, Emma, The Invisible Man and The Hunt set to be made available on demand.