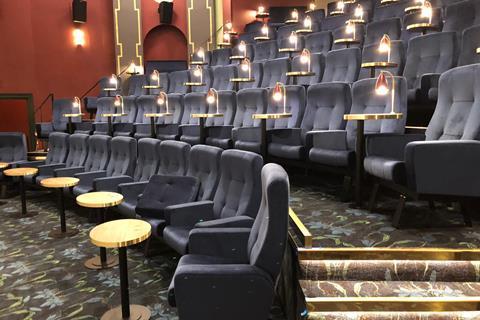 Two distributors have banded together to rescue and reinvent a classic cinema in Stockholm: Bio Capitol at Sankt Eriksgatan 82, in the Vasastan neighborhood.
NonStop Entertainment and Njutafilms have formed Kinematografen St Erik AB, an independent company that runs the cinema and bistro. NonStop is the majority shareholder in the company and its CEO Jakob Abrahamsson is also the CEO of Kinematografen St Erik.
The Capitol opened 1926 during the silent film era, was remodeled to 70mm in the 1950s, was turned into Sweden's first duplex cinema in 1968 and then was shut in 1985 before becoming a concert venue that became run down. In summer 2016, a group of cineastes including Abrahamsson had the idea to revamp it for modern audiences.
A Kickstarter campaign backed by 1165 supporters raised about $180,000 (1.6m SEK) towards the cost of the refurbishments.
The team looked at models including Alamo Drafthouse in the US and Picturehouse Cinemas in the UK to redesign the cinema – and its bistro – to appeal to specialty film audiences.
Two screens are available with both 4k or 35mm projection. The screens are 103 seats and 81 seats, and the company also plans to open two small screens of 17 and 19 seats in the future.
Abrahamsson told Screen, "What we're aiming for is a cinema experience for grown-ups: more comfortable velvet chairs and sofas, invoking hotel lobbies or private clubs rather than cinemas, art-deco style interior design stemming from the year Capitol originally opened: 1926, an intimate and high end bistro and a concessions stand that serves snacks, pintxos, good wine and beer rather than big buckets of popcorn."
The Capitol officially reopened on July 13 with the first week's programming including Bergman: A Year in a Life, Normandie Nue, Whitney, Ocean's 8, Mamma Mia! Here We Go Again, The Umbrellas of Cherbourg, and A Fistful of Dollars.
As for the film lineup, he adds, "We do absolutely want to be non-elitist and welcoming, so we're super happy to have both Mamma Mia 2 and the Bergman documentary in our opening week programme. We will generally steer away from superhero movies, teen horror and family stuff, on the other hand we have an ambitious classics programming as well with the following slots: musicals on Mondays, classics on Thursdays and genre on Sundays. So we haven't reinvented the wheel, there are plenty of people we've taken inspiration from, but the way we've put it together is fairly new for Stockholm."
The cinema also plans to cooperate with Stockholm's French Film Festival, the Rex Animation Film Festival, Timelessfest and Monsters of Film, among other events.
Nonstop and Njutafilms will screen films they are distributing, but only when appropriate. Abrahamsson said, "We're absolutely screening our own films as long as the fit the general profile of the cinema, but the cinema needs to work on its own, and the programming needs to be conscious about who our customers are, and what will draw a crowd as well. But in the general spectrum of the Bergman documentary to Mamma Mia 2, our own films should fit nicely."