EXCLUSIVE: Documentary captures life in besieged Syrian city of Homs through work of rebel female video reporter.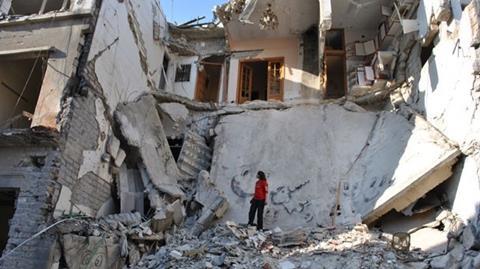 Paris-based sales company Doc & Film International has picked up sales on Silvered Water, Syria Self-Portrait ahead of its out of competition premiere in Cannes.
It is co-directed by exiled Syrian director Ossama Mohammed in Paris and Wiam Bedirxan, a female video journalist filming events on the ground in the besieged city of Homs.
The film was born out of an Internet chat between Mohammed and Bedirxan, in which she asked: "If you're camera were in Homs, what would you film?"
The end result is a film combining Bedirxan's material with other footage shot by video reporters in the city, sometimes sent to Mohammed in Paris directly, other times culled from YouTube or social media sites.
Mohammed has been living in exile in Paris since 2011, having become persona non grata back home after openly denouncing the regime of Syrian President Bashar Al-Assad's at the Cannes Film Festival in 2011.
"The film raises questions, doubts, hope and sadness. It is about war and humanity and above all about the place of cinema in our world today," said Doc & Film managing director Daniela Elstner.
Silvered Water is co-produced by Paris-based Films d'Ici and the formerly Damascus-based Owra Nyrabia and Diana El Jeiroudi of Proaction Film, who are now living in exile in Europe.
The couple also produced Return to Homs, which won the World Cinema Grand Jury Prize for Documentary at Sundance this year.
Doc & Film will also continue sales on Frederick Wiseman's National Gallery, going behind the scenes at the world famous national collection, which will premiere in Directors' Fortnight.
"We've been working with Frederick Wiseman since La Danse," said Eltsner, referring to his 2009 documentary about the Paris Opera Ballet.
"As well as giving a behind-the-scenes view of a great institution, it also travels into the very heart of art," says Elstner.
The film has already sold to Japan (Cetera) and France (Sophie Dulac Distribution).
The company is also handling Claudine Bories and Patrice Chagnard's documentary Rules of the Game, exploring the absurdities of today's job market through a trio of youngsters without qualifications, who are coached by an employment agency in interview techniques.
The work plays in Cannes in ACID, the parallel selection of France's independent distributors association.