This year will see 74 market screenings of feature documentaries, with half available at the Doc Corner's Video Library.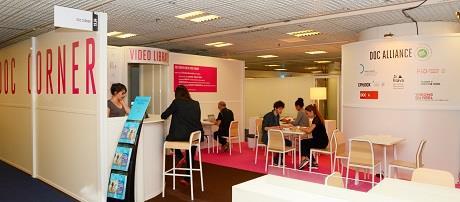 There will be 74 market screenings of feature documentaries at the Marche this year, an increase on previous years. Half of these will also be available at the Doc Corner's Video Library.
Sales companies including Cinephil, Rise & Shine and Cat&Docs are amongst those showcasing films in the video library.
Cannes Marche's Doc Corner will welcome expert speakers at a series of roundtables, including Anne Lai from the Sundance Institute, producer Heidi Fleisher, IDFA's Isabel Arrate Fernandez, Vimeo's Sam Toles, La Septième Salle's Tom Dercourt, We Want Cinema's Marieke Jonker and Touscoprod's Nicolas Bailly.
Topics of discussion at the 4-6pm talks at Palais I will include new financing models for documentaries (Sunday); crowdfunding (Monday); VOD models (Tuesday); and consumer-driven documentaries (Wednesday).
The DocCorner Brunch will be be held on Monday (by invitation only) welcoming 200 guests including directors Frederick Wiseman and Gabe Polsky, sales experts Daniela Elstner and Catherine Le Clef, producers including Titus Kreyenberg and programmers including Tine Fischer from CPH: DOX and Claas Danielsen from DOK Leipzig.
At the brunch, Connect4Climate will launch its competition Action4Climate+ and the Doc Alliance will announce its Doc Alliance Selection Award.
Doc Corner also offers expert consultations with veterans such as Nicole Guillemet, Anne-Marie Luccioni and Caspar Sonnen.
The Doc Alliance and IDFA also have tables in the Corner for meetings.