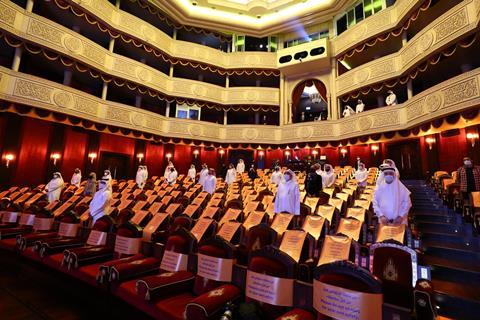 The Doha Film Institute (DFI) kicked off a hybrid eighth edition of its youth-focused Ajyal Film Festival on Wednesday with the MENA premiere of Iranian director Majid Majidi's Venice prize winner Sun Children.
Running under the banner of "The show goes on" from November 18-23, the festival is showing 22 features and 58 shorts hailing from 46 countries, with a mix of socially-distanced physical and online screenings as well as a drive-in venue.
Majidi's Tehran-set feature, which explores the topic of child labour through the adventures of four poor but resourceful boys, screened at a socially-distanced, red carpet event in Doha's Katara theatre in the city's cultural district.
Guests included attended Miramax CEO Bill Block and Nasser Al-Khelaifi, chairman of the Qatari beIN Media Group as well as president and CEO of France's Paris Saint-German football club.
Ajyal marks the first major physical event of 2020 for the DFI, which was forced to move its popular industry talent and project incubator event Qumra online at the eleventh hour in March due to the pandemic.
"I think people have been pleasantly surprised by the fact that we decided to go ahead," said festival director and DFI CEO Fatma Hassan Alremaihi. "It's been slightly crazy because we weren't quite sure what scenario we were planning for."
"At first, we were aiming for an online event but then, as [Covid-19] numbers came down, shopping malls, schools and cinema started opening. We felt we couldn't have the cinemas open and not have a physical component. So we decided to create a hybrid event that could quickly move online if necessary."
Qatar's quarantine rules currently require all in-bound travellers to self-isolate in a mandatory hotel for seven days, so few international guests will attend this year. However a handful are participating online including US actor and comedian Zach Woods, Bosnian actor Goran Bodgan and Indian actor Kunal Kapoor.
The festival is also welcoming its trademark youth juries - spanning Mohaq (eight to 12-years-old), Hilal (13 to 17-years-old) and Bader (18 to 25-years-old) – in both a physical and online capacity.
"The fact the festival is also running online has meant we can open the juries up to more countries internationally, which been a great opportunity," said Hassan Alremaihi.
Each jury watches and deliberates on an age-appropriate selection of films from the Ajyal line-up and also participates in online Q&As with the filmmakers.
This year's line-up features 24 films made with DFI support including Palestinian director Ameen Nayfeh's drama 200 Meters, which has just been announced as Jordan's submission to best international film category of the 2021 Oscars; and documentaries Gevar's Land by Syrian filmmaker Qutaiba Barhamji's, Their Algeria by French-Algerian director Lina Soualem and An Unusual Summer by Palestinian Kamal Aljafari.
"We're always trying to push the boundaries with our juries in terms of the types of films that we bring," commented Hassan Alremaihi. "A film like An Unusual Summer, for example, is a very different film from anything that they have probably seen before. But there's no better person than Kamal to have a conversation with them to tell them that the sky's the limit when you want to make a film."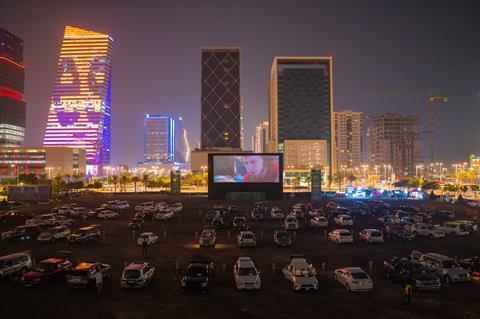 The programme at the drive-in cinema, situated in Qatar's new city of Lusail, focuses on family-friendly fare such as Takashi Yamazaki's animated adventure tale Lupin III: The First and classics such as Bambi, Chicken Run and Chronicles of Narnia - The Lion, The Witch and The Wardrobe.
The line-up also features the Made in Qatar sidebar comprising 16 films by emerging filmmakers either hailing from or residing in Qatar, which is always popular with local audiences.
"We received tonnes of applications for Made in Qatar which was a happy surprise for us because a lot of these films were shot right before right the lockdown and then put on hold. It's a varied selection spanning documentaries, fiction, experimental and animation," said Hassan Alremaihi.
Alongside the screenings, the festival has also organised a series of multi-disciplinary events under the banner of the Ajyal Creativity Hub and an art exhibition entitled Outbreak, reflecting on the new pandemic reality of 2020.
Highlights of the Ajyal Creativity Hub include Geekdom, Qatar's largest and one-of-its-kind pop-culture event; Ajyal Talks, gathering leaders from film, art, television and technology for inspiring and insightful discussions; and Ajyal Tunes, celebrating the country's musical talents through a mix of online initiatives and drive-in concerts.
Qumra hopes for 2021
In the backdrop, the DFI has been carrying its core activities of nurturing Qatar's fledgeling film industry and film culture as well as supporting filmmakers from across the Middle East and North Africa online
"We've engaged with the community in different ways," said Hassan Alremaihi, saying the focus has been on creating shooting protocols for when production can start-up as well as animation projects and scriptwriting and other development activities.
"We have a lot of feature film scripts in the works right now. This has been a great time for these writers and filmmakers to work on these scripts," she said.
The institute's grants programme has also continued at its normal pace and plans are also afoot for a physical edition of Qumra in March 2021.
"We're already working towards Qumra and planning how it could look next year," said Hassan Alremahi. "We're hoping that things will be better, and we'll be able to deliver a fully-fledged event. But it all depends on how things progress. We hope we can come back and see everyone in Doha by March, but we'll have to wait and see."