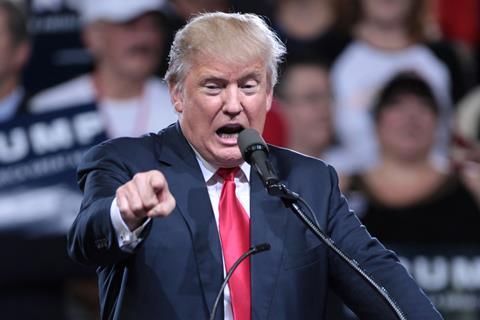 Donald Trump lashed out at Hollywood on Friday (8), branding it racist and claiming its films were "very dangerous for our country".
Speaking to reporters on the White House lawn, the US president had taken a swipe at Twitter before he trained his sights on the film industry.
"Hollywood… I don't call them the elites because I think the elites are people they go after, in many cases, but Hollywood is really terrible," Trump opined.
"You talk about racist. Hollywood is racist. What they're doing with the kind of movies they're putting out, it's actually very dangerous for our country."
His comments came after Universal Pictures put on hold its marketing campaign for the Blumhouse political satire The Hunt, in which wealthy liberal elites hunt "deplorables", in the wake of three mass shootings in the US in one week.
A 21-year-old man named in reports as Patrick Crusius is in custody in connection with the fatal shooting last Saturday (Aug. 3) of 22 people at a Walmart store in El Paso, Texas. In an online manifesto that the suspect is believed to have written and posted prior to the atrocity, he said he was responding to a "Hispanic invasion of Texas". According to reports breaking on Friday evening, authorities have since said he told officers he was deliberately targetting Mexicans.
On Friday a backlash was brewing over a photograph tweeted by Melania Trump during a visit to El Paso this week in which she was seen smiling as she held a toddler orphaned in the massacre, alongside a grinning Trump giving the thumbs-up sign.
Last month Trump drew fire when he tweeted that the four Democratic congresswomen and women of colour known as 'The Squad' – Alexandria Ocasio-Cortez, Ilhan Omar, Rashida Tlaib, Ayanna Pressley – should "go back and help fix the totally broken and crime infested places from which they came."