Three new films have achieved mid-range scores on Screen's Toronto Platform jury grid, with Emir Baigazin's The River, the first title to land, still leading the way.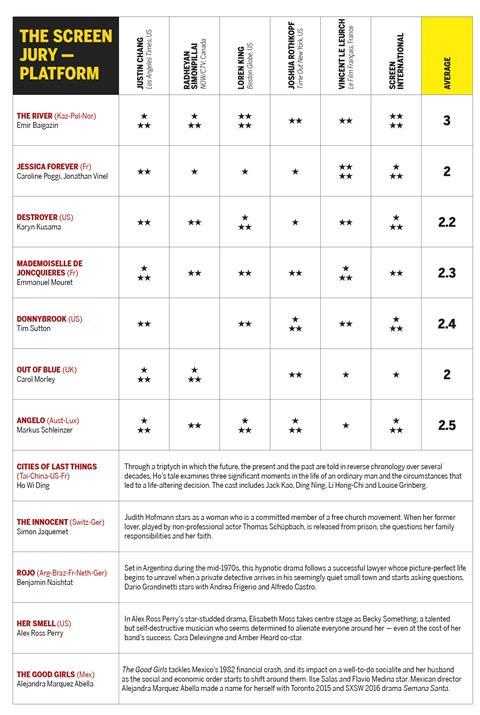 With one score to come, Tim Sutton's Donnybrook reached a 2.4 score, with three twos ('average') added to two threes ('good') from Joshua Rothkopf of Time Out New York and Screen's own critic.
Sutton's film stars Jamie Bell and Frank Grillo as an ex-marine and drug dealer respectively, who compete in legendary bare-knuckle boxing competition Donnybrook for a cash prize they both desperately need. Screen's review said it "examines the underbelly of the American Rust Belt".
Carol Morley's Out Of Blue (also waiting on one score) marked a 2 average, receiving a mixture of two ones, one two, and two threes from Justin Chang of the LA Times and Radheyan Simonpillai of NOW/CTV.
Morley follows up 2014's The Falling with a drama about a Louisiana detective (Patricia Clarkson) whose view of the universe and herself is destabilised when she investigates the shooting of a leading astrophysicist.
Casting director-turned-director Markus Schleinzer lands on the grid with Angelo, which takes a 2.5 average from six scores for second place on the grid so far. All critics gave it three stars ('good') apart from a two from Simonpillai and a one from Vincent Le Leurch of Le Film Français.
The story is inspired by the true 18th century story of Angelo Soliman, a Nigerian boy taken from his homeland and moved to Vienna court life when he is sold to a European countess. Makita Samba leads the cast, alongside Alba Rohrwacher and Christian Friede.
Baigazin's family drama The River still leads the way with a 3 average; it is the only title two have received both a four-star rating and no one-star ratings.
Ho Wi Ding's Cities Of Last Things and Simon Jaquemet's The Innocent are among the upcoming titles to slot into the grid.