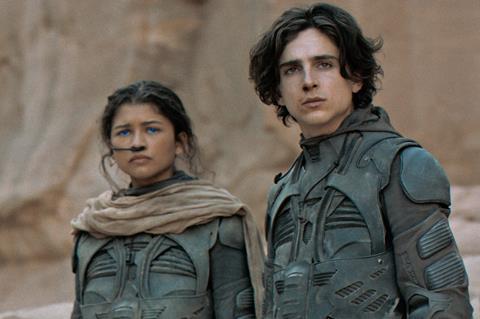 Denis Villeneuve's Dune will receive its world premiere at the 78th Venice International Film Festival on September 3.
Warner Bros and Legendary Pictures' science-fiction feature, which has long been rumoured to debut on the Lido, will screen out-of-competition at the festival (September 1-11).
French Canadian filmmaker Villeneuve was last at Venice in 2016 with science-fiction feature Arrival, which played in competition.
Timothée Chalamet and Zendaya star in the all-star adaptation of Frank Herbert's popular novel about the scion to a royal family charged with protecting a valuable spice.
The cast also includes Rebecca Ferguson, Oscar Isaac, Josh Brolin, Stellan Skarsgård, Dave Bautista, Sharon Duncan Brewster, Stephen McKinley Henderson, Chang Chen, David Dastmalchian, Charlotte Rampling, Jason Momoa and Javier Bardem.
Dune is scheduled for a simultaneous release in US cinemas through Warner Bros. and on HBO Max on October 1, but is set for theatrical release from September 15 throughout Europe and other territories.
The feature was originally scheduled for release in November 2020 but has been delayed as a result of the Covid-19 pandemic.
Villeneuve co-wrote the screenplay with Jon Spaihts and Eric Roth. Producers are Mary Parent, Villeneuve, Cale Boyter and Joe Caracciolo, Jr. Executive producers are Tanya Lapointe, Joshua Grode, Herbert W. Gains, Jon Spaihts, Thomas Tull, Brian Herbert, Byron Merritt and Kim Herbert.
Venice is anticipated to go ahead as fully physical event, after a year of festival's hosting screenings virtually or as hybrid on-and-offline events.
As previously announced, South Korea's Bong Joon Ho – the Oscar-winning director of Parasite – will serve as president of the international jury while Italian actor and filmmaker Roberto Benigni will receive the Golden Lion for lifetime achievement.