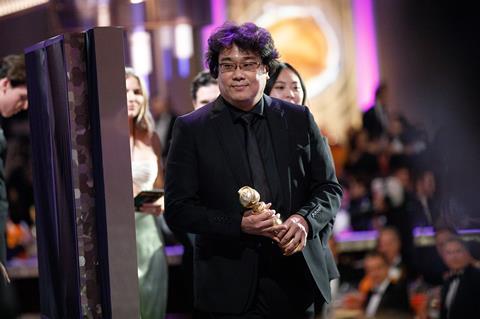 Bong Joon Ho, the Oscar-winning director of Parasite, is to serve as president of the international jury at the 78th Venice International Film Festival (September 1-11).
The South Korean director will lead a seven-strong jury and assign prizes to features selected in competition, including the prestigious Golden Lion for best film, won last year by Chloe Zhao's Nomadland.
Bong has previously been more associated with the Cannes Film Festival, premiering five of his films there including Parasite, which won the Palme d'Or in 2019.
Accepting the Venice jury role, he said: "Venice International Film Festival carries with it a long and varied history, and I'm honored to be woven into its beautiful cinematic tradition. As president of the jury - and more importantly as a perpetual cinephile - I'm ready to admire and applaud all the great films selected by the festival. I'm filled with genuine hope and excitement."
It marks the first time a filmmaker from South Korea has led the jury and Venice festival director Alberto Barbera said: "The decision to entrust the jury to a Korean filmmaker, for the first time in the festival's history, is confirmation that the Venetian event embraces the cinema of the entire world, and that directors from every country know they can consider Venice their second home."
Director Bong made his feature debut with the darkly comedic Barking Dogs Never Bite in 2000 before gaining international acclaim with Memories Of Murder, for which he won the Silver Shell for best director at San Sebastián Film Festival in 2003.
He followed this with The Host in 2006, which premiered at Directors' Fortnight in Cannes, and Mother in 2009, which played in Cannes' Un Certain Regard.
Bong made his first foray into international production with Snowpiercer in 2013, starring Chris Evans and Tilda Swinton, followed up with Okja in 2017, which screened in Competition at Cannes.
Parasite has been his biggest success to date, winning the Palme d'Or at Cannes, a Golden Globe, two BAFTAs and four Oscars including best film and best director.
Actress Cate Blanchett presided over last year's international jury at Venice, which took place during the pandemic and was commended by the international film community for its successful approach to social distancing and hygiene while also celebrating cinema and the communal big-screen experience.
The 78th edition of the festival will run September 1-11.