Oscar-winning star named Ambassador of Into Film.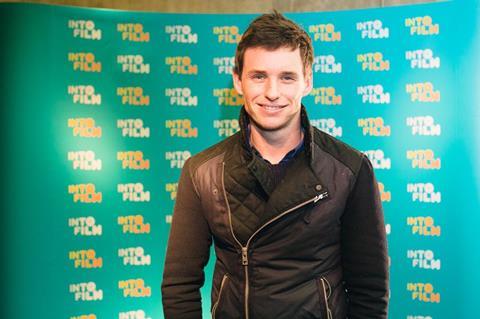 Actor Eddie Redmayne has today been announced as the new Ambassador of UK film education charity Into Film.
The charity, which is supported by the BFI with Lottery funding, places film at the centre of the educational and personal development of children and young people aged 5-19 across the UK.
Redmayne - who won Oscar, BAFTA, SAG and Golden Globe Awards for his performance as Professor Stephen Hawking in The Theory of Everything – first worked with the charity when he joined pupils last year at Westminster Academy to launch Into Film.
The charity had been formed following the merger of two leading education charities - FILMCLUB and First Light - in 2014.
Redmayne, who will next be seen in Tom Hooper's The Danish Girl, chose to support the charity after he saw the impact of its work with young people.
He said: "I went to the Westminster Academy last year with Into Film and saw firsthand the impact that all aspects film can have on young people - the power to inspire, connect and expand our understanding of ourselves and the world around us.
"I absolutely loved the day, it was wonderful to meet so many young, galvanised people who were all keen to find out more about the film making process.
"I hope through being an ambassador for Into Film I am able to help raise awareness of how film can contribute to their cultural and creative lives."
Into Film CEO Paul Reeve said of Redmayne's appointment: "We are absolutely thrilled to have Eddie on board as an Into Film Ambassador, to help raise awareness of how film can educate, inspire and enrich the lives of children and young people.
"As a hugely respected artist, and with his clear love of film and genuine enthusiasm for enabling young people to engage with it, he is a brilliant advocate for what we do. We hope his involvement in Into Film will inspire young people from all corners of the UK."
Into Film Ambassadors support the charity in a variety of ways – from visiting young people in their schools and colleges as part of their Behind the Scenes programme, to supporting the Into Film Festival and Into Film Awards, or something simple such as providing a quote of support or tweeting for the charity - all of which helps Into Film to raise awareness of its work.
Into Film hosts an annual three-week long film festival - the Into Film Festival - which runs this year from Nov 4-20 across the UK. The free festival, aimed at young people aged 5-19, offers access to a wide range of film, industry professionals and workshops.