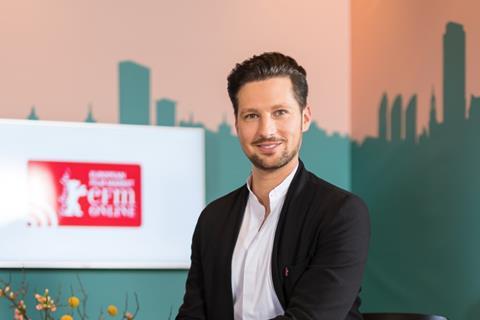 When Dennis Ruh was announced as the new director of the European Film Market (EFM) last September, the expectation was that the Covid-19 pandemic would be under control by the time the Berlinale rolled around and that it would run as a hybrid event alongside the festival, with a major physical component.
Instead, Ruh's first edition at the EFM helm has taken place this week (March 1-5) 99% online, albeit with the buzz factor of the Berlinale's 2021 selection, which has premiered online to industry and select press and in person for the juries in socially-distanced screenings at the Berlinale Palast.
Screen caught up with Ruh on Friday morning as he headed into a final packed day, either presenting online events in the EFM's physical studio in the lobby of the Berlinale Palast or stopping by behind-closed-door meetings on Zoom.
"As it's a global market now and online, the final day only ends when the Los Angeles day ends later tonight," said Ruh.
Outside of online seller-buyer meetings, which sales companies have set up themselves, the market will have run 90 official sessions, covering everything from a co-production case study on Quo Vadis, Aida? to daily morning podcasts to a Berlinale Series keynote with It's A Sin creator Russell T Davies.
"They've been in different formats, seminars, working groups around very specific questions, think tanks, panels, masterclasses and keynotes. While some of the sessions were pre-recorded, most have been live and interactive. This was important for us and I think it worked," Ruh explained.
A 50-person-strong EFM team has been busy behind the scenes coordinating the events and patching participants in, with the support of another 15 technical staff.
The EFM will publish a full analysis of attendance numbers next week but preliminary early figures include 12,000 visitors a day and 820 films screened online in 1,449 screenings. It is difficult to quantify how many EFM meetings will have taken place overall.
The biggest sign of success for Ruh has been the raft of deal announcements coming through in recent days.
"The atmosphere has been totally positive. I was a bit surprised because our expectations weren't so high. There was so much uncertainty. After a long time of lockdowns, working remotely and closed cinemas, we were not certain if buyers would really buy and how the business will go."
Prior to arriving at the EFM, Ruh worked at promotional body German Films, where he was head of the department overseeing cooperation with international film festivals, a role that brought him into contact with distributors and exhibitors worldwide.
The network he built up in this role played a key part in the creation of this year's EFM Goes Global screenings initiative, a programme of physical screenings in Melbourne, Sao Paulo, Tokyo and Mexico City that ran alongside the virtual event.
"It would have been impossible without the infrastructure of strong partners," said Ruh, citing the involvement of IMCINE— the Mexican Film Institute, the Tokyo, Melbourne and San Paulo film festivals, and Australia's Palace Cinemas.
"They were well-attended, especially in Tokyo where 100 professionals registered. It was aimed at festival titles and buyers only. I think participants appreciated the fact that the EFM came to their cities at a time when they could not come to us," he added.
While the EFM officially ends on Friday night, many buyers and sellers expect to continue meetings well into next week, having already started their market campaign the week before it started. Ruh believes, however, that five days was the right duration for the official virtual event.
"It's clear sales agents and distributors are also using the days on either side of the market intensely, not least because we offered them a lot of films, but five days still makes sense of our programme.
"You have to be careful about online fatigue. When people are working remotely, they need days off and it definitely didn't make sense to push into the weekend."
Looking to the future
Ruh says it is too early to pronounce his expectations for how next year's EFM will unfold but acknowledges it will retain some sort of virtual component, although the aim will be to get as many professionals as possible physically back in Berlin, Covid-19 conditions permitting.
There have been suggestions that the efficacy of this year's online edition could result in some companies, especially those based in the US, abandoning a physical presence at the EFM for good.
Ruh is convinced most will still prefer attending in person. "The virtual market has been great in that it has made the event more accessible to more professionals because they don't have to pay to travel to Berlin, which also feeds into our drive for more inclusivity, but overall people prefer to attend in person. People have been telling me all week how much they miss physical interaction."
He also fully expects US companies to return when the health situation permits, emphasising that the lure of Berlin goes beyond what happens each day in the booths of the Gropius Bau and the Marriott Hotel.
"It's too early to say if US companies will be present next year. It will depend on the progression of the pandemic but the representatives of US companies I talk to all tell me how much they're missing being here and meeting people," he said.
"It's not only about the market days, but also about the market nights in Berlin, which are legendary for their parties and networking opportunities. If things return, I think American distributor and sales companies will be back too, they won't want to miss out."